Although it sounds like a myth or one of those email chain letters, Xbox LIVE Gold free games are sponsored by Microsoft, totally legit, and already available. Microsoft is calling this "Games with Gold." They announced these free games as part of their big E3 marketing push alongside the launch announcement of the Xbox One.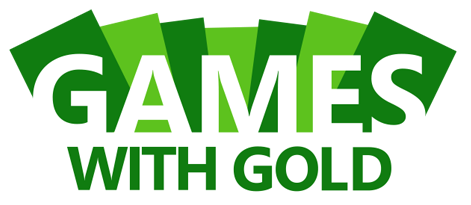 Microsoft has been facing increased pressure from Sony, whose PS4 really won the hearts and minds of the media and fans at E3 2013. Sony's PlayStation Plus (PS+) service already comes with free games, and has for the last year or so.
Free Games with Gold
So far we've seen:
July 1st - 15th: Defense Grid, a tower-defense XBLA game that came out in 2009.
July 16th - 31st: Assassin's Creed 2, which is at least a full game, but it was one released 4 years ago as well. (Not to mention that the series has seen several releases since..)
August 1st - 15th: Crackdown, an open-world third person game released waaaay back in '07.
August 16th - 31st: 2010's Dead Rising 2, along with the Case Zero "prequel" DLC. Sadly, this isn't the "Off the Record" version with Frank West as the star.
At least the August games are ones I haven't played yet...
I've heard rumors about:
Halo 3 is supposedly coming out on this service at some point, according to other rumors.
The catches are:
You have to be a LIVE Gold subscriber during the time period the games are offered, and you need to "purchase" them during the time period the game is offered. It doesn't cost anything to buy stuff when it's free, but you still have to complete the transaction on your Dashboard or online. Once the offer expires (every 2 weeks), the game goes back to full price again. So, if you space out and forget to "buy" it while it's free, you're outta luck :(
Playstation Plus free games vs Xbox LIVE Gold free games
The Playstation blog has a huge image of all the games they've given away in the past year: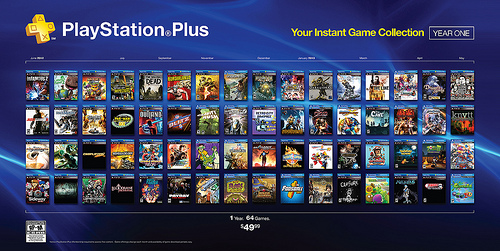 You can also view the enormous original here if you're so inclined.
How does Microsoft's free game offer stack up?
Playstation Plus has been releasing 4 or more games per month. Xbox LIVE's free games are scheduled to be released at a rate of two a month, at the beginning and middle of each month. I think Sony's kind of winning there - the LIVE gold free games aren't as numerous.
Playstation Plus free games are actually recent AAA releases like Sleeping Dogs, which is about a year old. There are also a lot of platform exclusives. Xbox LIVE's free game offering so far has given us some older titles, and primarily ones that are not 360 exclusives.
Playstation Plus games are only free as long as you keep subscribing to Playstation Plus. Games with Gold free games on the Xbox are free as long as you want. Both require that you be a subscriber during the month the free game is offered in order to get it.
It's hard to compare the cost seeing as the free games are only a small part of a larger service, but Playstation Plus is cheaper yearly, so that's something to consider if the only reason you're subscribing is to get free games for your Xbox.
I think on the whole this is a step in the right direction for Microsoft, but they're late to the party with what appears to be a weaker offering.
Conclusion
As a long-time Xbox LIVE Gold subscriber, free games with my Xbox LIVE Gold subscription are all well and good, since I'm not paying extra for them. However, I do wish they were games I was more interested in. Games from 2009 are pretty easy to come by given the used game scene and the frequent Steam discounts and so forth.
Where are the online games? LIVE Gold is all about playing online. Giving away some free online Xbox LIVE Gold games would do wonders here to get new subscriptions and retain those users once they're hooked. For instance, wouldn't Halo 4 be ideal for this program? What about Black Ops 2? Or even something that's got excellent co-op like Dungeon Defenders (which already made a PS+ appearance)?
The Playstation Plus free games offer was strong enough when it first launched that I was willing to plop down $20 and pick up a 3-month PS+ card. They launched with a good selection of titles that Playstation owners could really get behind. If Microsoft is going to try and copy this strategy, they would do well to think about the "first time subscriber" hurdle here, and offer more for new users to take advantage of.