If you are an old school Boggle player like me, and if you've somehow not heard about WordBrain in the two years it has been on the App Store (like me)... then boy do I have a treat for you! WordBrain is a classic word puzzler from Mag Interactive that plays very similarly to Boggle except that each level is a fixed puzzle with an exact solution. Early puzzles are trivial with few letters to play with, but as you increase your "Brain" score you unlock harder and harder challenges with longer words and more words per puzzle. Read on for our full WordBrain review!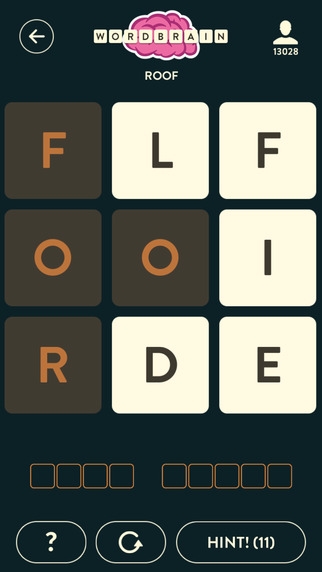 3 Letter Word That Starts with "F"
Before you get all dirty-minded, the answer is "fun" - and that is just what WordBrain is. If you enjoy word puzzles, you've just found a treasure trove of them (580 as of this writing). The words are simple and straightforward, with no obscure lingo that I've found yet, and the "saga" style level system gives a sense of accomplishment as you progress to harder and harder puzzles. The simple appeal of WordBrain conceals the fact that it isn't just Boggle, its Boggle + Crosswords (with no free clues, by the way). You'll quickly find that finding the word or words is a lot more challenging than just trying to come up with the biggest list of Boggle standards that you can think of in a few minutes.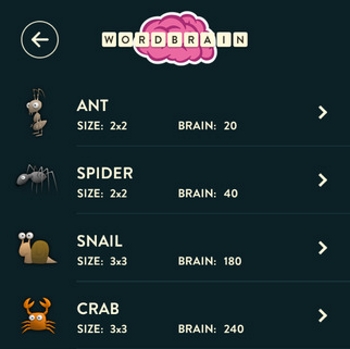 How could we not find meat?
True story - I gave WordBrain a try for the first time with my wife, and within a few minutes we were hooked. We probably played 40 levels in one sitting, and with a team effort we were rarely stumped on a level for too long. Unfortunately, as the levels get harder, our Boggle jedi powers are weakened because the benefit of all of those random short words you know for Boggle is essentially nil when you need to find the exact words the puzzle is waiting for. This can lead to some amazing mind-block circumstances where you can't see a word as simple as "MEAT" when it is staring you in the face (that really happened).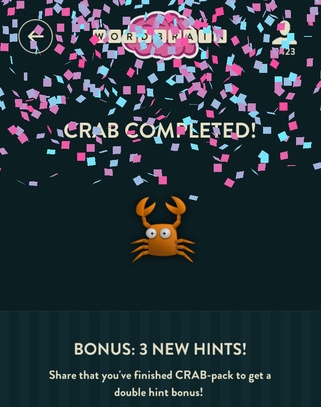 Luckily the game has a hint system, and you can either horde the free hints for the really tough puzzles, or you can kick the developer a few bucks for this great game and spend them a little more freely. Either way, you'll often kick yourself when you see how easy the word you were looking for was.
Pro Tip Some puzzles require words to be "solved" a particular order or the remaining letters can't be used to make subsequent words. If you find you are stuck with a partial solution, take note of the words you've already found, then hit the "retry level" button and see if you can solve the words using a different order.