Over on Arqade, glenviewjeff writes:
I'm looking for Kinect games that are feasible for a two year old to play. The only two I'm aware of at this point are the Sesame Street series and (possibly) the Kinectimals series.
What other games are doable for a two year old child?
This is a question I've been struggling with ever since I got my Kinect. Honestly, the Kinect is not really well suited to kids, period. It is very, very finicky with detection, and it doesn't do well with small children. Your child needs an amazing amount of patience to play most games. Mine tend to get frustrated easily, so this isn't something they're willing to deal with normally.
You've also got to take into account how much patience your children have. My 2 year old won't really do anything for more than five minutes straight, so buying a game for him is a losing proposition. My 5 year old has a bit more patience, but even after months of training and practice he's still a beginner at things that most gamers consider to be trivial.
On top of the attention span issues, a 2 year old is likely to not be detected by the Kinect at all. Our 2 year old is too small for accurate detection, although he does enjoy playing along with older kids. I'd highly suggest trying out a game demo from the Xbox Live Marketplace before you purchase anything. Heck, some of the game demos are actually enough content to entertain a child on their own, without having to buy the full game.
However, there are a few Kinect games that are good for kids, and I'll do my best to explain and link them below. Do note that with most games, you can play with two people at once - most games can be "played" by the kid while the parent does all the heavy lifting. If you don't mind playing kid games, this can be good, although I'll also try to cover games where the kids can play by themselves.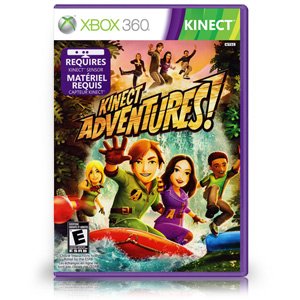 Kinect Adventures
Kinect Adventures is one of the early pack-in titles for the Kinect, and it's sort of a "Wii Sports" style minigame collection. Little kids can play some of the games in this collection, but the body detection is somewhat problematic. For instance, when playing the rafting game, the Kinect never seems to detect when my 5 year old jumps. He can jump all day long and the game never registers. Similarly, when playing the "dodgeball-slash-breakout" game, it often loses track of his arms and he looks like he's flailing wildly when not really moving.
In between games there are a lot of loading screens and selection screens that you've got to navigate through, so even if they're fine flailing about during each game, you're going to have to get back in front of the sensor to set the next game up for them every few minutes.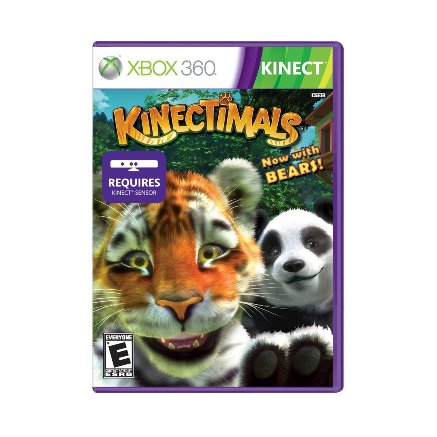 Kinectimals
While Kinectimals is a game ostensibly aimed at a younger audience, again, the Kinect's dodgy detection gets the better of it. Even trying to pick a pet at the outset is difficult, since you've got to swipe across your body, and often times the Kinect doesn't pick up this gesture from my 5 year old. Worse, when he's trying to do a swipe, it often picks him up going back the other way which moves his selection the wrong way.
Trying to play the games is similarly frustrating. Often there's a timer associated with completing a particular task (like teaching a new trick) and little kids are liable to get frustrated or run out of time when trying to make the Kinect recognize a new gesture.
Although the topic and theme would seem to make it a good Kinect game for kids, it's severely lacking in execution.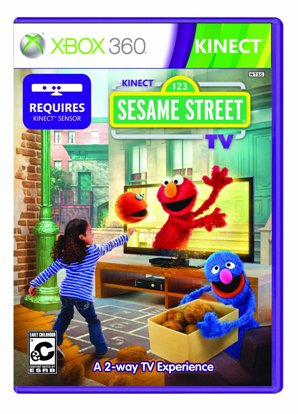 Kinect Sesame Street
Kinect Sesame Street is fine for kids of all ages - the game has relatively minimal interaction, and even if you fail or ignore it, the game just continues without any issues. There's a decent amount of content on each disc, although mostly it is just clips of Sesame Street episodes. There are kind of long stretches with nothing interactive to speak of.
Think of this one more like a somewhat more interactive version of a Sesame Street episode - if your child enjoys watching Sesame Street, and they wish Elmo was talking directly to them, they'll probably get a kick out of it.
The only issue we've had is that sometimes the kids treat it just like they would a TV show - they completely ignore the interactive elements in favor of just using it as passive entertainment. You may have to get in there and encourage them to participate. Even so, during some of the longer non-interactive sequences, they might get disinterested in active participation.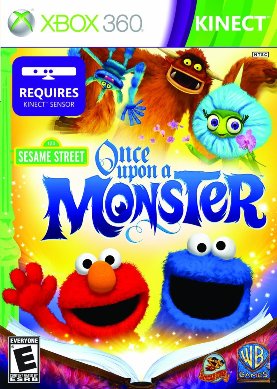 Once Upon a Monster
Once Upon a Monster is also a Sesame Street themed game, although it was developed by Double Fine. (makers of fine video game entertainment for all ages!) It's much more interactive, which is both good and bad. Luckily, most of the games are designed for two people, and progress is tracked when either of you complete a task successfully. It's also very forgiving, although it won't play itself.
If you're looking for a good Kinect game for kids that is something to play together, this is a good game to get. However, small children are probably not going to have the patience to deal with the mini-games.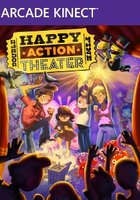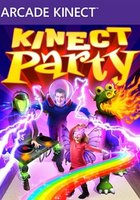 Kinect Party / Happy Action Theater
Kinect Party and Happy Action Theater are Xbox Live Arcade games aimed at children, again by Double Fine. Kinect Party is essentially "Happy Action Theater 2+" - Kinect Party contains all the other game's content, plus a significant number of other modes.
Note: To buy things on the Xbox Marketplace, you'll need to have a (free) Xbox Live Silver account. You can do this from the console, or online at this link. You do not have to sign up for Gold and pay per-month or per-year to buy games on the Marketplace.
Note 2: Games on the Xbox Marketplace are paid for with Microsoft Points. If you don't have any, you can buy some when you make the purchase, or you can check out my Microsoft Point guide here for the latest tips, deals, sales and so forth.
The game is structured into a number of mini-games, each that lasts just a few minutes. The games cycle on their own, and there's no "game over" or loading screens or anything of that sort. Each game has simple objectives that are immediately apparent. Usually you just need to make simple movements to interact, and the interactions are silly and fun. For instance, you'll pretend to be Godzilla and smash a city, or moving around will shoot off fireworks.
This is also one of the only games where our two year old can actually play. He doesn't always get detected properly, but the game does frequently catch him, and there are some games that just involve being present, rather than being properly detected from head to toe.
This one is a great game for parties, too. Put a couple of kids in front of it, and they'll entertain themselves for quite some time. This game probably sees the most activity of any of the Kinect games we own, and I highly recommend it.
A few additional thoughts from EBongo
Both Happy Action Theater and Kinect Party have an "auto start" feature. All you need to do is turn on the game, and it will load and start playing without needing further interaction. Every kids game ever should have such a feature. Both games also offer the best sort of "gamer family fun" that I've experienced on any console to date.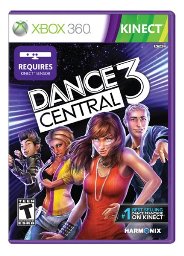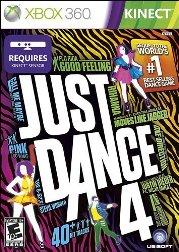 Dance games didn't make agent86's list, but there are two solid franchises for Kinect (Dance Central and Just Dance). New versions of both games feature a "no fail" party sort of mode which is good for kids. Dance Central is a little more serious and is definitely a "play together" title. Just Dance is more irreverent and colorful, and can be played by your kid alone (in "no fail" mode). Some titles in the Just Dance franchise are even expressly for kids (although you have to be able to tolerate the infinite loop of classics like "Monkey's on the bed").