Everyone's favorite/hidden/confusing King feature is back in Pet Rescue Saga - the Mystery Quest. Mystery Quests let you unlock levels in Pet Rescue Saga without having to pay for them, and it works even if your friends don't play Pet Rescue Saga! Sound good? Let's go over the details of Mystery Quests in Pet Rescue Saga.
Unlocking New Levels
Periodically in Pet Rescue Saga, you'll come to a bridge or other obstacle you can't cross without:
Bugging 3 Facebook friends for "tickets" - which are different from lives!
Paying $0.99 (In the US anyhow, it's probably different elsewhere...)
Unless you've got several friends who play Pet Rescue Saga, chances are good you can't round up three tickets easily. And I am morally opposed to paying $0.99 every 15-20 levels or so. Not happening, guys!
Luckily, with a recent update to Pet Rescue Saga, a third option is available - the titular Mystery Quest. Mystery Quests are free and don't require you to bug your friends!
Getting the Mystery Quests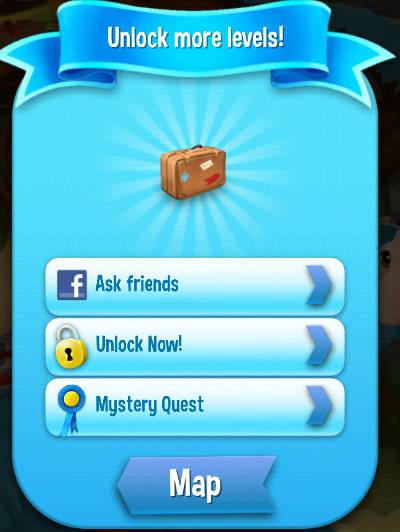 Getting Mystery Quests can be tricky if you're new to Pet Rescue Saga. Here are the requirements:
You must be playing on a phone or tablet - if you're playing on Facebook directly, Mystery Quests are never an option.
You must update the game - in the Android version, Mystery Quests are new to the game as of Halloween Update 2013. I imagine the iOS version was also updated around the same time.
You must not be logged into Facebook within the game. This doesn't have anything to do with whether or not you're logged into Facebook on your phone or on your PC!
Logging out of Facebook From Within Pet Rescue Saga
The option to log out of Facebook within Pet Rescue Saga isn't as hidden as it was in Candy Crush Saga.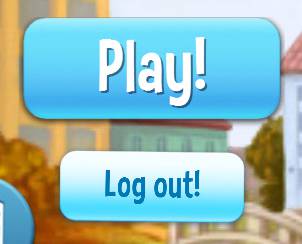 If you're on the "map" screen, click the blue "paw" icon in the lower left and then click the red "door with arrow" icon
The button to log out from Facebook is just below the Play! button
Warning! People reported in Candy Crush Saga that logging out of Facebook would take their stockpiled lives away - if you've got a lot of friends sending you lives in Pet Rescue Saga, you might consider asking them for Tickets instead of taking the Mystery Quest route. I don't know that this is true for PRS as it was for CCS, but I felt like you should be warned. So consider yourself warned. Warned.
Playing Mystery Quests
Now that you're logged out of Facebook, you can go back to the bridge (or what have you) that is blocked, and you should have a third option to play Mystery Quests.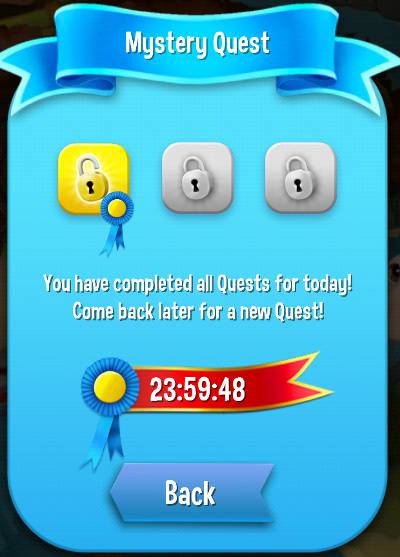 If you're already familiar with Mystery Quests in Candy Crush Saga, the rules are very similar here.
Mystery Quests are randomly chosen repeats of levels you've already cleared.
Mystery Quests tend to have higher score requirements than the original level - usually it's something like the 2-star score goal instead of the 1-star goal.
Once you clear a Mystery Quest, you must wait a full 24 hours to play another.
It takes three Mystery Quests to move on. You cannot mix and match tickets and quests. You need 3 of one or 3 of the other to continue.