Guest writer tlc is back, this time with her favorite tips to save a few bucks on your holiday shopping lists. She's done the family holiday shopping for years, and always manages to get everyone just what they want while still keeping the budget reasonable. Tips ahoy!
Well, it's that time of year again. Time for everyone to groan because it's only September and holiday decorations are already in stores! Really though, it may be 3 months until the holidays start but it's not too soon to start shopping. Buying gifts can be really expensive so it helps to not only have a few months over which to spread the spending, but also time to find good deals. I personally have three children to shop for and two of them have birthdays that occur between now and the holidays - so I am doing a lot of shopping this time of year. I'm going to give you some tips on how to save money as you get your shopping done.
# Tip # 8: Shop Discount Sites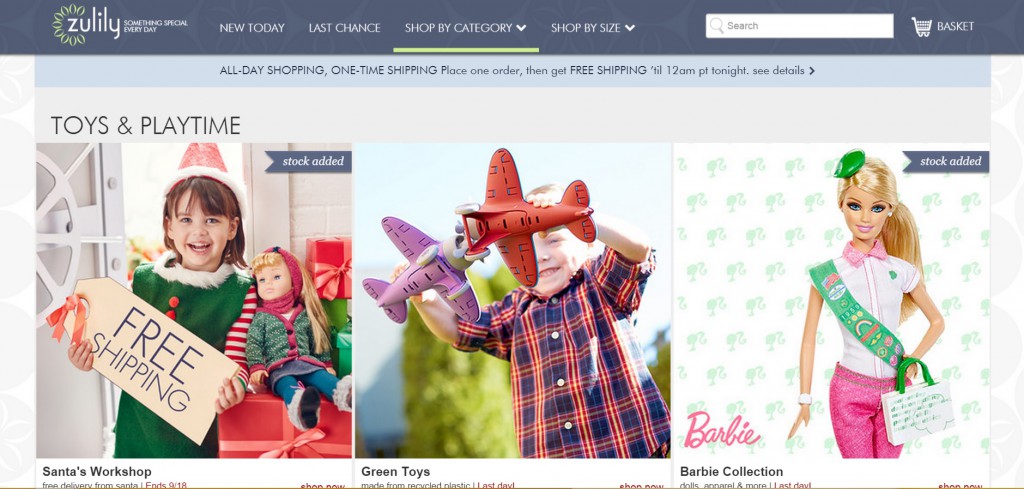 One great place to find gift ideas is on discount sites. There are a variety of them available depending on what you are trying to buy. Looking for clothes or toys? Zulily is a good bet. Looking for gifts for adults? Groupon Goods is a good place to start. There are a variety of sites available but you have to be willing to move fast. Zulily, for example, will often only have things available for 3 or 4 days and the popular items will sell out well before then.
# Tip # 7: Price Compare
So you found something on sale and you want to buy it before time runs out... not so fast! Make sure it's a good deal before you commit. There are so many places where, even with deep discounts, their prices are more expensive than other retailers. I find that amazon.com is a great place for comparison shopping. Usually if an item has dropped in price per the manufacturer, Amazon will have dropped their price as well. If you can beat the Amazon price, you are probably getting a good deal.
If you are more committed to this, you can try a Google search. If you use Chrome, simply right-click on a photo of the item and select "Search Google for this image" to bring up the sites that sell that item. (Users of other browsers can click here and then push the little camera icon, then upload the image)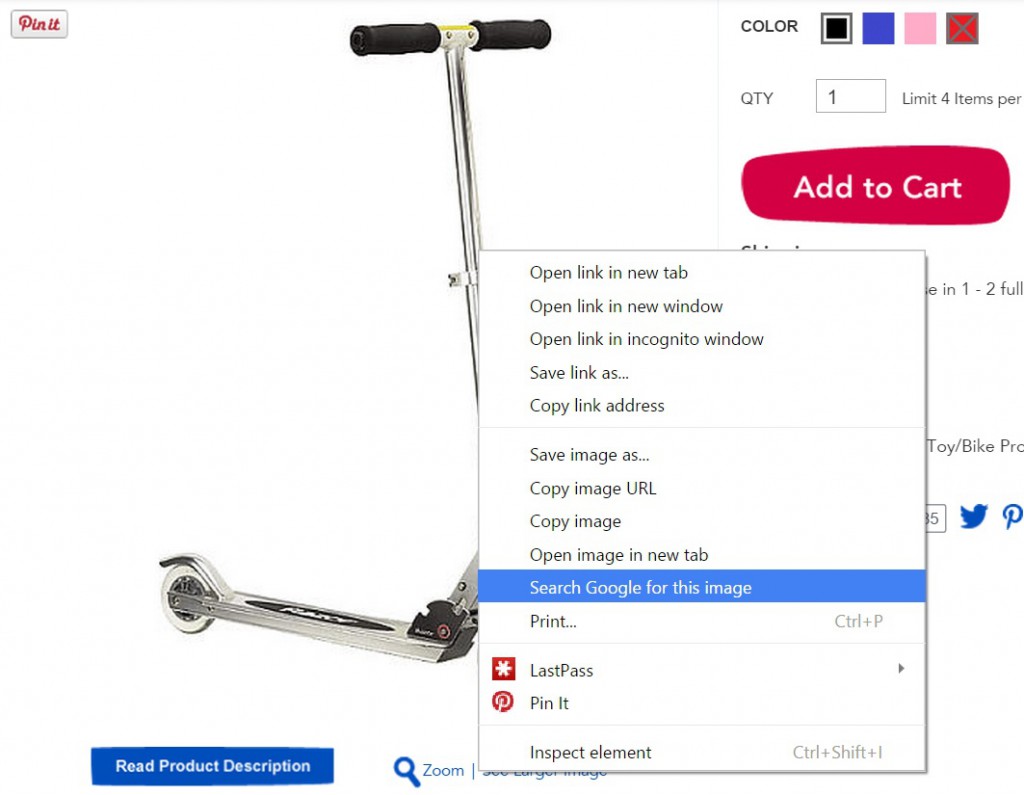 It is not foolproof and can be a little tricky (I usually get a lot of Pinterest hits - they're pretty much useless for this) but it's worth a try. You can also use Google Shopping, but I don't find it quite as useful. Different stores may call an item by a different name but they almost always use the same pictures.
# Tip # 6: Join the Mailing List
Do you have a place where you do most of your online shopping? Sign up for their alert emails. My go-to stores are Target and Toys R Us because I am buying mostly toys these days. When I get an email saying they have toys on clearance, I start shopping.
I can get toys for my kids 30-75% off and sometimes the emails will have codes that will let you get an additional percentage off your purchase. You will have to keep up with your emails because these deals often only last for 24 hours but they will let you save a lot of money.
Warning Beware of the sites that raise prices just so that they can lower them - the "list price" on an item is often a fake number made up to make discounts look bigger.
There is one caveat to this: if you have never made a purchase at a site, you probably don't want to sign up for their emails until you are ready to buy. Most of the time, when you sign up at a site, you will get a coupon code for first-time shoppers. You don't want to waste that discount when you are not ready to buy.
# Tip # 5: It's Good to be Indecisive
Okay, so you found something you want to buy. You put it in your cart and you go to check out. Consider waiting. Sometimes, if you put something in your cart and don't complete the purchase right away, the seller will send you an email with a discount code to entice you to complete the purchase. It's worth a try.
Warning Do NOT try this with items that are likely to sell out or where there's already a good discount. You don't want to take the risk of losing the item completely.
Want more hints? Check out page 2 - I've saved the best for last!
# Tip # 4: Don't Rely on Black Friday
If you absolutely love shopping on Black Friday and get really into it, by all means, go shopping! Just keep in mind that the best prices on items are for things with very limited quantity and are just meant to get you in the door.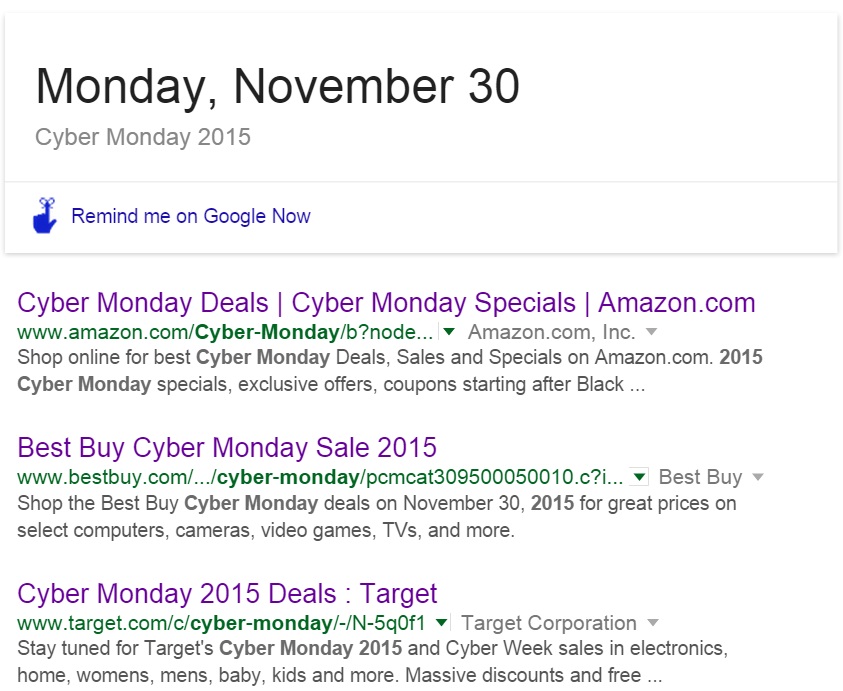 If Black Friday isn't for you, there are a couple of alternatives. First, find out if a store will do a price adjustment. Sometimes, if you buy something and then a store puts it on sale, they will give you back the difference in price. This would allow you to buy something on, say, Wednesday and then go back Friday afternoon and get money back. However, ask the store about this before trying it. Everyone has different rules about Black Friday shopping and some stores have rules in place specifically to stop this.
Second alternative? Cyber Monday! You can get great deals online on the Monday after Thanksgiving, especially on electronic devices. Some stores even will put their Black Friday sales online starting Thanksgiving day. Personally I will always choose shopping in my pajamas, sitting on my couch, over going to a store at 3 am.
# Tip # 3: Free Shipping Should be the 28th Amendment
There is nothing worse when gift shopping than finding a great deal and then noticing that the cost of shipping completely destroys any savings you might get. There are a few ways to beat the shipping cost game.
Amazon Prime is my best friend. I order things from Amazon all the time, so for me it's completely worth the money to pay once and get free shipping all year.

There is also a site called ShopRunner. It is also a "pay once, get free shipping for a year" service, but they provide shipping at a whole list of retailers. If you have an American Express Card, you may have free membership available to you - check this page for details.
If that doesn't work for you, you can try a Google search for the name of the retailer and the words "free shipping." Sites like RetailMeNot and DealsPlus (plus many others) keep track of promo codes for various companies and can help with free shipping or even percent off coupons. Sometimes the codes work, sometimes they don't, but it doesn't hurt to try.
Some stores will even let you stack codes so that you can get free shipping and some percentage off. Yay!
# Tip # 2: Always Check the Clearance Section
This one is pretty self-explanatory and it goes for in-store shopping as well as online. Stores don't always advertise their clearance sales and it doesn't hurt to check if you're there anyway. Admittedly you are unlikely to get the newest items this way but if you are looking for something that's been out a while, you might get lucky. I've even found great gifts and "stocking stuffers" at my grocery store and drugstore!
# Tip # 1: Sign up for Alerts
So you've found the perfect gift but you've looked everywhere and nobody has it on sale? Try signing up for alerts. I have started using SlickDeals for this. After you sign up for their site, you can search for deals on any product.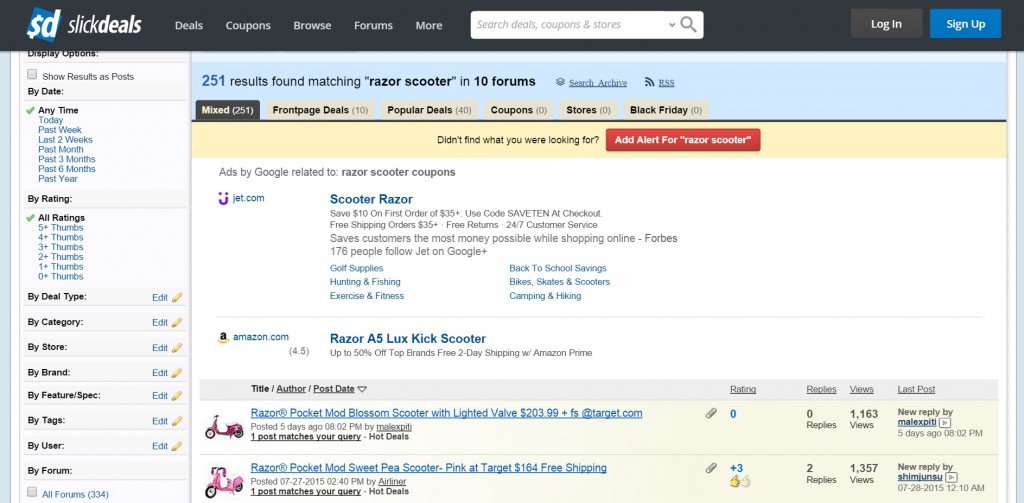 You scroll down to see the results and, if they don't have anything right now, you can click the red button near the top that says "Add alert for (item)" and they will send you an email when the item goes on sale somewhere. Note that this is not a perfect system but it might keep you from missing out on a good deal.
# Remember, shop early and shop often for the best deals! Have a tip I missed? Let me know in the comments. I'm always up for saving more money!