With the Version 1.1.0 update, Two Dots Level 69 got a major overhaul. The New Two Dots Level 69 is arguably even harder than its formidable predecessor. When I originally read the version update notes of "rebalancing" levels like this one, I assumed it would involve making tough levels easier. Boy, was I wrong....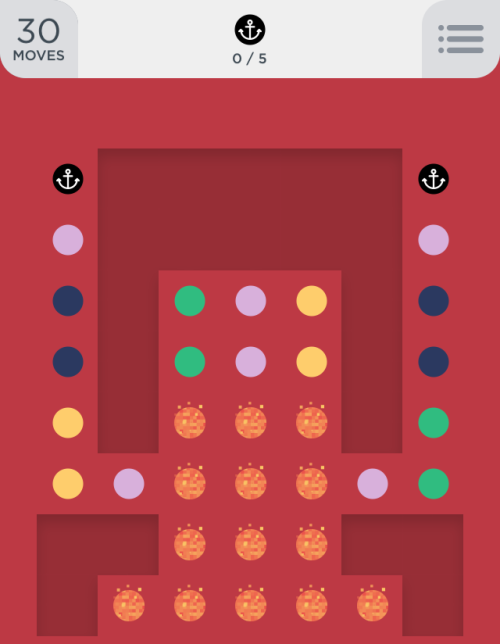 Gee, thanks
You thought Betaworks was going to give you a break? Think again. The new Two Dots Level 69 has 8 fewer moves than the previous version. Thankfully, there is no ice to break, but really the challenge was and continues to be controlling the Fire. Forget for the moment that you've got Anchors to clear, because if you don't control the Fire - You. Will. Lose. The worst thing that can happen is the Fire splitting up into the two side columns where the Anchors spawn. Do whatever you can to avoid this, because if it occurs, it's game over.
Pro Tip The best starting move tends to be the double match right in the middle. This sets up a chance for more matches down the center which can clear Fire on both sides, and also increases the chances of a Square forming on either the right or left column.
Pro Tip Like other Fire levels, you'll sometimes have turns where you can't break a Fire Dot. This is a great time to move Anchors down and set up Squares or other matches. Keep in mind that breaking Fire Dots will cause your Dots to move down by two, and factor that into your strategy for setting up matches.
Eyes on the Prize
Once you have killed off or significantly reduced the Fire, it's time to free up those Anchors. There is no trophy for a "clean" win, so take the matches however you can get them, but keep an eye out for Squares. If you can get a Square train going, it is often possible to win even if you have several more Anchors to collect with only a few moves left.
Pro Tip Immediately next to the Anchor columns, there is a single Dot on each side which connects those columns to the main board. Keep an eye on the color of the Dot in this column, as it can often help get Anchors free, especially in the starting board where it is often pink, matching the pink Dot that spawns below the initial Anchors.