Over the weekend, EBongo and I spent a considerable amount of time navigating SxSW Interactive and the events surrounding it. This was our second major gaming con of the year, and I feel like we learned a lot between PAX and SxSW. Still, though, there were things we could have done better. In this article, I'm going to take a look at what worked for us and what didn't, in the hopes that we can hone our game for the next round.
Transportation & Food
Win We took the MetroRail to get into downtown. I'd rate that as "A+++ Would cram self into metal tube with stinky people again." It wasn't the fastest way to get to the convention center, but it meant we didn't have to park and deal with downtown traffic. The train stops right outside the convention center, so it was a short walk to get our badges.
Meh To get from the convention center down south to the Palmer Events Center, we used the SxSW shuttle service. The problem was that there were comparatively few buses headed south, and a lot of buses headed north. On Saturday and Sunday, there were more routes that added to the confusion. The shuttle bus didn't run that often, and it got bogged down in traffic.
Win When we needed to get to the Moody Theater for the SxSW Gaming Awards, we hopped a pedicab. That worked out a lot faster than walking or taking the shuttle, and it took us right where we needed to go. After we left the awards, we just walked back to the convention center.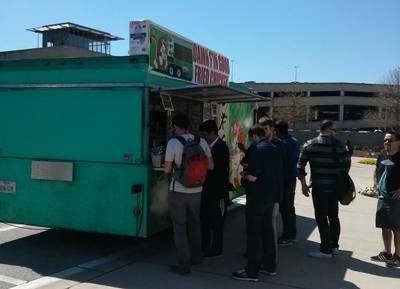 Win I brought snacks and bottled water in case we needed them, but for the most part I was hoping to eat from local food vendors. I told EB that "Austin shall provide" - and provide it did. We grabbed chicken and sandwiches outside the Long Center and both were quite tasty. There was also food inside the Palmer Center which we picked up for dinner on Friday.
SX Create
Win I hit the SparkFun, Raspberry Pi, and Hackaday booths while at SX Create. All three were excellent. At the RPi booth, I got a chance to speak with Ebon Upton, Pi Foundation founder - on pi day, no less! What a treat! At the Hackaday booth, Mike Szczys (the managing editor) hooked us up with shirts and a Hackaday Omnibus! Finally, at the Sparkfun booth we put our soldering skills to the test and walked away with a pretty nifty badger badge.
SxSW Gaming Expo
Win We started at the gaming expo right when it opened on Friday. Friday was definitely the best day of the con - this reinforces our idea that the weekdays are really the best day to get stuff done. We had plenty of time to talk to devs and get extended time with the demos.
Win I had planned ahead and done my research again, making a list of the game booths at the con and trying to figure out what each game was roughly about. My information was still somewhat incomplete, especially since some booths were held by publishers rather than developers, or the project they were showing hadn't been announced anywhere.
Win I put together some templates for questions I wanted to ask, and they really helped. I could quickly look at my sheet and see if I'd gotten all the information I wanted to get. Plus, they reminded me of things I had meant to ask, and kept me from repeating myself. Finally, having something structured made me look a lot more professional, and more quickly identified us as press.
Meh Speaking of being id'ed as press, the press badges for this event were pretty low-key. It was just an extra line that read "PRESS" in a relatively small font under our names. I'm thinking maybe we should get some sort of button or sticker or something made for next time, so that it's abundantly clear we're there to take notes and talk to folks.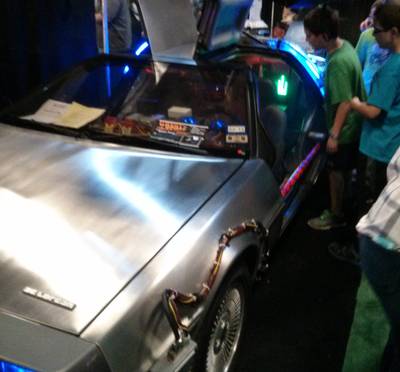 Fail Pictures were an area where I failed miserably. On the one hand, there are plenty of photos of the event taken by professionals that I could use (assuming they're OK with it). On the other hand, I really just need to buy a small, high quality point-and-shoot camera and carry it when I go to these events.
Win I tried to be a lot more proactive about asking for builds/keys from people when I was playing a game and didn't feel like I could spend as much time as I'd need to in order to write a good article. At PAX I felt like I was imposing, but this time around I was a lot more clear about how we cover games at cons and why we wanted a buikd/key.
Meh I still feel like we probably missed some good games on the expo floor. Especially booths where there was a line for the demo or we didn't know what was going on when we walked past. Some of it is just trying to do too much in a weekend, I'm sure.
Fail Panels. We didn't go to a single one all weekend. We had big plans to hit up the Long Center and visit some panels there too, and just lost track of time playing video games on the expo floor.
SxSW Gaming Awards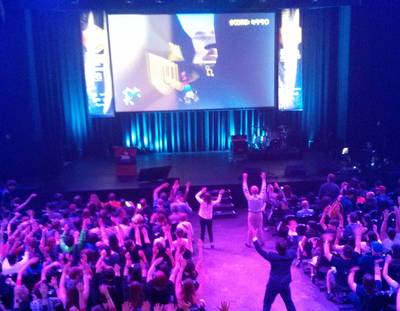 Win We got VIP access to the gaming awards by virtue of being press, reading our emails carefully, and knowing who to RSVP to. We got to rub elbows with some of gaming's finest!
Fail Despite the aforementioned elbow rubbing, we didn't do a lot of mingling. The room was very intimidating. A lot of people already knew each other, and I don't know about you but I don't know very many of these guys/gals by sight. I realized after the fact that I had been standing right next to Darren Korb of Supergiant Games, and I love the Bastion/Transistor soundtrack. He was just hanging out by himself, and I wish I'd walked up and said hello.
Win That said, we did get to hang out with some of the indie devs we'd talked to earlier in the day, and it was a good chance to spend a bit more time with them outside of the crazy expo floor.
The Afterparty
Win We got invited to three parties - one thrown by Nvidia and Logitech, one thrown by Star Citizen, and a third which was at the IndieCade Annex. It's nice to be in demand :)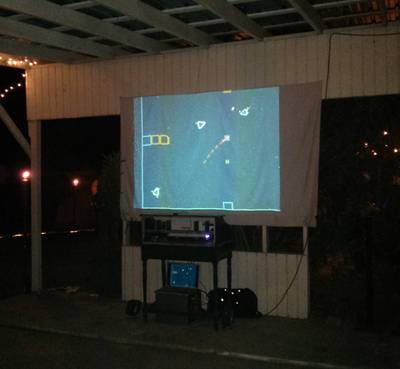 Win We opted for the IndieCade Annex party, and it was a blast! Beer, the indie scene, and more games than you could shake a stick at. It was very low-key and super friendly. EB and I both agreed that we'd sign up to do that again in a heartbeat. Thanks to everyone at the annex and especially Eduardo for the invitation!
Coverage Plans
We've got a list of games that we want to cover. For most of the booths we visited, we're going to put together an "Indie HYPE" article on Kotaku about what we saw in the demo. There are a few games where we were able to get keys or builds, and those are going to get longer preview articles here on Without the Sarcasm.
I'm hoping we can burn through the backlog in the next couple of weeks, but we'll have to see how fast we can move. I'm shooting for a HYPE article a day, and I've divvied up the work so that we both have roughly an equal number to write.