Welcome to my PAX Media Pass FAQ! agent86ix and I just got back from attending the first PAX South as Media, and it was so fun! We learned a lot from the experience, so I thought I'd try to compile all of the lessons learned and share with any fellow bloggers, youtubers, or podcasters who are considering taking a crack at it. I hope you find it helpful, and if you've got other tips or feedback leave a comment!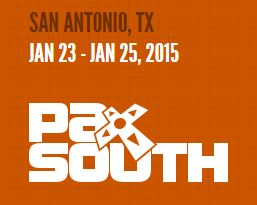 A word on "perks"
As you may or may not know PAX was founded on the idea that gamers needed a conference for gamers. That is to say, not primarily for developers, advertisers, or media. PAX stays true to its mission when it comes to Media for sure, and there are very few "perks" of a Media badge. Perks that we identified are as follows:
Free 3 day pass (see note on buying a backup below)
Pass that says "Media" on it
1 hour of early access to the Exhibit Hall on the first day only
Access to the Media Lounge (wifi, lockers, tables, quiet, that's it)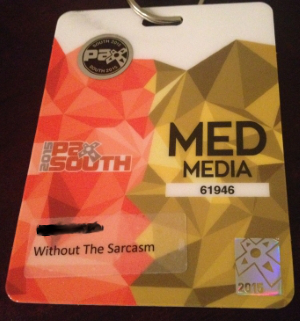 Probably by design, you'll even notice that the Media Badge looks visually very similar to an Attendee Badge. This means that many developers, enforcers, etc will not notice anything different about you in all the chaos - so you can expect near zero special treatment. If you love games enough to spend time covering them, and you don't feel the need for demonstrations of fealty you should still have plenty of fun nonetheless.
Vetting process
If you want to attend PAX as media, there are some rules to qualify and there is also a process with a couple of steps you'll need to follow. If you are new or on the smaller side than you might find it a little daunting, but I suggest giving it a shot. Plenty of other small players have been accepted, it doesn't take very long and hey, what's the worst that can happen? I will note that since 3 day passes sell out early you may want to buy one as a back up, and sell it or give it to a friend if your pass goes through since you probably won't hear back with an "accept" from the PAX team until after 3 day passes are gone.
Qualifying
PAX has a few simple rules that exclude some types of journalists from getting Media Passes. These will likely evolve over time, but the below is a snapshot from the 2015 PAX South rules.
Blogs: No photographers or videographers will be granted passes.
Podcasts: Links provided must introduce the reporter/broadcaster applying for the media pass within the first 30 seconds.
YouTube Channels: Passes will be granted only to channels that have at least 50,000 subscribers.
Process
If you meet the above criteria, you can proceed with the Media application process. Again its pretty straightforward. If you lack business cards or letterhead its probably a great time to up your game and get some anyway. There are many online shops that are not too expensive. I was fortunate that my wife is a graphic designer.
STEP ONE Media Registration Form - a Google Doc. Deadline for each PAX more than a month before the event.

STEP TWO Submit the following materials via email with the subject line PAX South

Letter on Company Letterhead from Editor
A photo of your business card
Photo of a drivers license or other government id
Alright, now that you've submitted your info, hopefully you get approved! Even if you don't you can still buy an Attendee Pass and do most of the same things as "Media Badged" journalists - but it pays to have a plan. Read on in part 2 for some tips on what to do once the big day arrives.