Here at Without the Sarcasm, we like to keep tabs on all the up-and-comers of the gaming hardware scene. On our latest trip to PAX South, we were invited to come check out a relatively new brand of gaming headsets that launched just last year. At the LucidSound booth, we met with CEO Chris Von Huben, who walked us through his company's current lineup as well as their vision for the future of gaming headsets.
While LucidSound is relatively new, their team is no stranger to gaming audio. Chris actually founded Tritton, one of the oldest brands in gaming audio, which was acquired by Mad Catz in 2010. However, Chris felt that there were still new ideas to be explored in gaming headsets besides "angular plastic" and "RGB LEDs." With a mission to advance the state of the art and style of gaming accessories, LucidSound was born.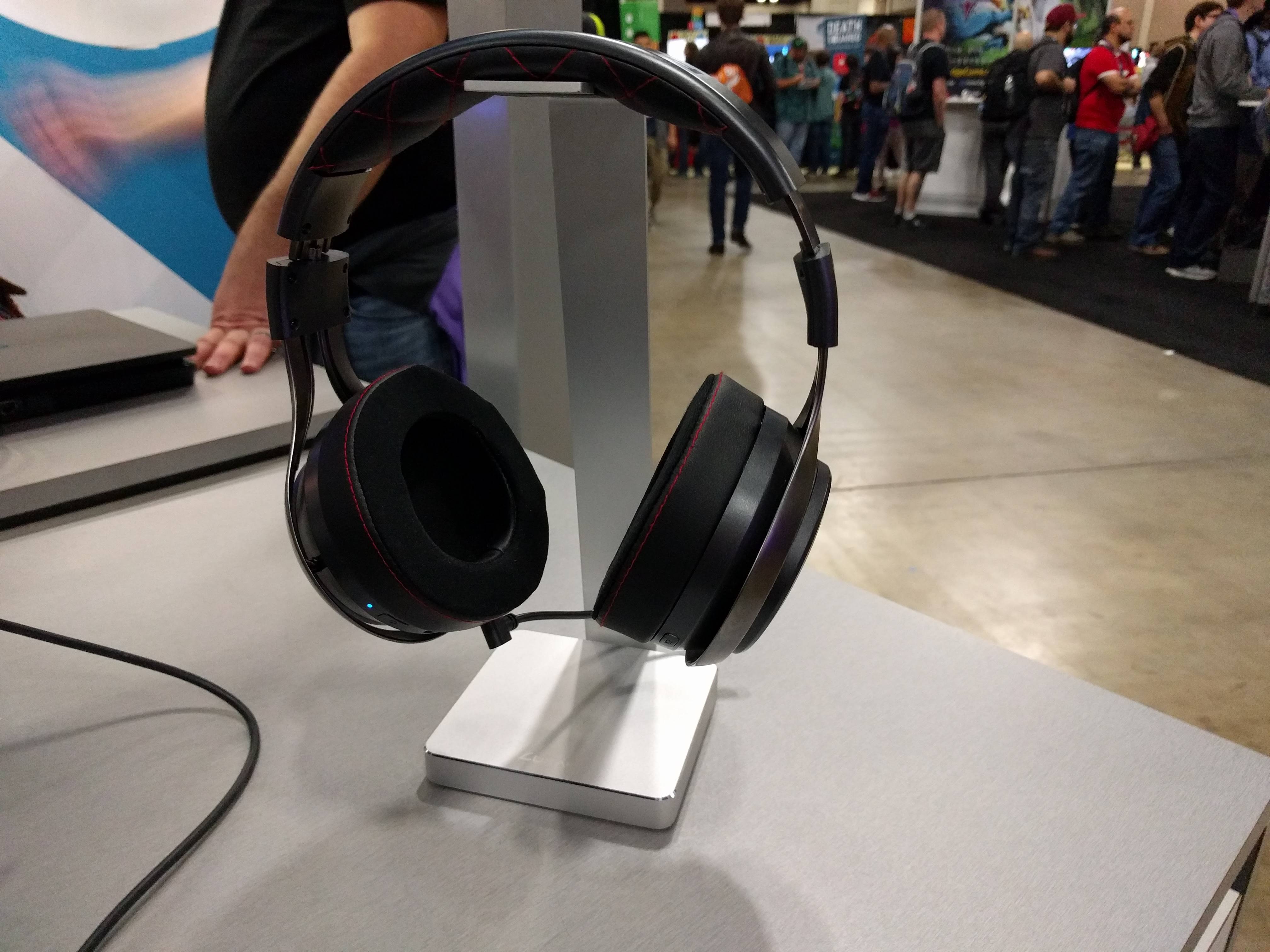 Chris gave us a run down of a number of unique features in LucidSound's lineup that set them apart from other gaming headsets:
Amplified Audio - LucidSound's headsets have a built-in amplifier and audio processing logic. This means that they've also got a built-in rechargeable battery to power it. Luckily, if the battery is dead, they can still be used in a passive mode just like standard headsets can.
Dual Mics - In addition to a high quality boom mic, LucidSound's headsets have a built-in mic that operates even if the boom has been removed. Obviously, the quality is better on the boom mic, but for times when having one would be weird or awkward, the integrated mic can be used as a fallback.
Mic Monitoring - When wearing a headset that covers your ears, it can be difficult to both hear what's going on around you and determine how loud you're speaking. LucidSound has mixed their mic audio through the headset so you can avoid both of these issues.
"Lifestyle" Design - Instead of looking like something out of a cheesy 90's sci-fi flick (like most gaming headsets still do), LucidSound headsets look like they belong in a more classy setting.
Simplified Controls - Many headsets, especially wireless ones, have weird buttons in awkward locations that make controlling them difficult. LucidSound's headsets have a rotating ring on each ear cup to control volume (one for game and one for chat). A large, easy to reach central button inside each ring controls mute (one for mic and one for audio). Power and mode switching are also controlled via a single button. Simple, usable, and innovative.
We saw a total of three LucidSound headsets at PAX South 2017:
LS20 - The lowest end model is wired, and thus doesn't support controlling chat volume independently of game volume. It still has the battery powered amplification features of its more expensive brethren, though. The LS20 is also currently the only "on ear" design in the line up.
LS30 - The first step up adds wireless for consoles and larger (50mm vs 40mm) drivers. The console interface is digital (optical) rather than analog (3.5mm)
LS40 - At the top of the food chain, this guy adds 7.1 surround sound (DTS:HeadphoneX) as well as custom ear cushions made from a combination of materials, designed for maximum comfort and breathability across long gaming sessions.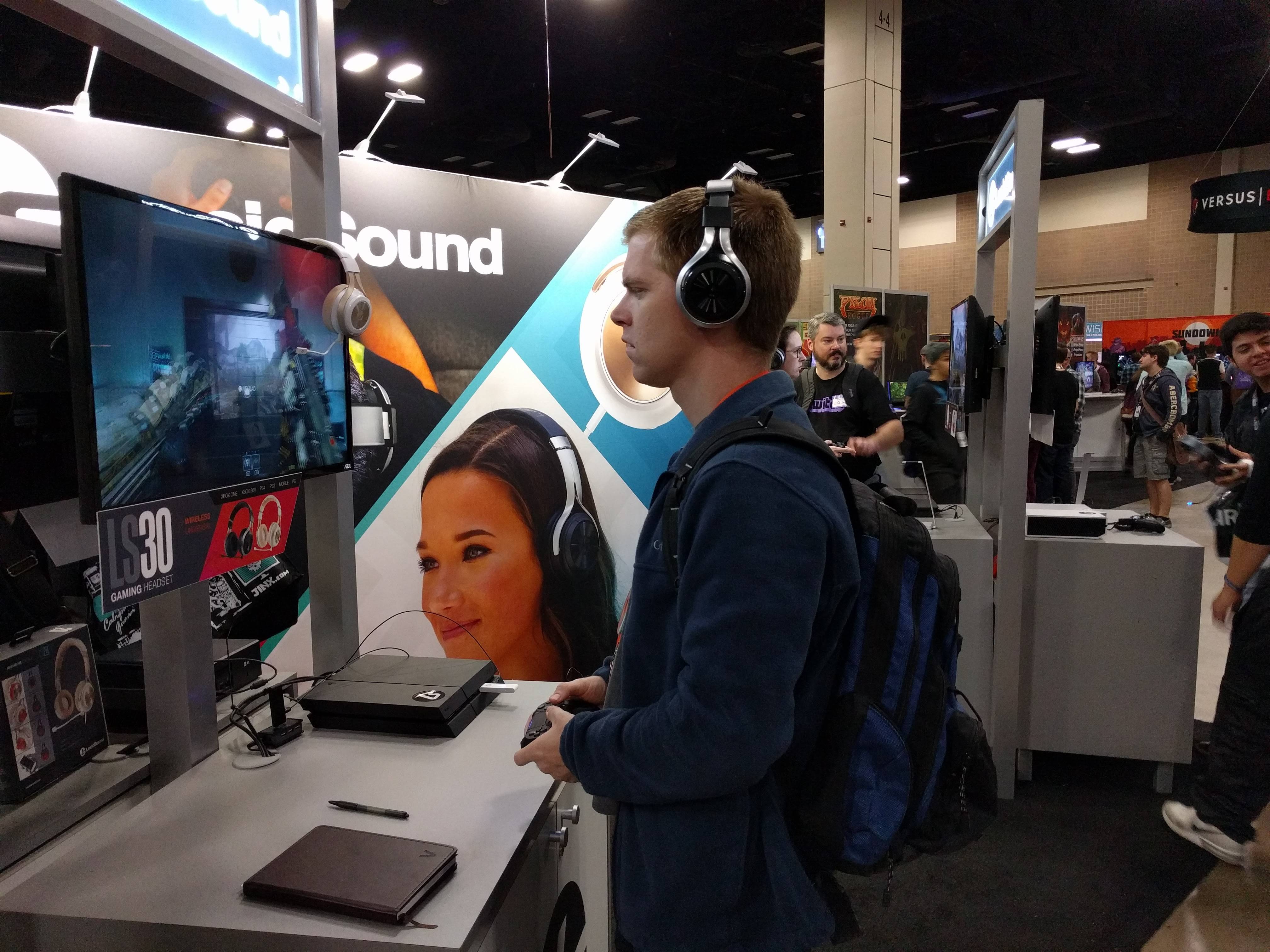 At the con, we got a chance to try out the LS30 in a game audio session with Battlefield 1. The audio quality was quite good, although con floor noise can make it tough to get a clear picture of just how good a headset is. Chris also let us hook a pair of LS20's into his phone, where he had some music queued up. Based on our quick impression, for an on ear headphone the sound quality was superb. The bass response was particularly impressive!
We hope to get our hands on a few pairs of these babies to put them through their paces and compare them to the other models we've reviewed - we'll let you know our full impressions when we have them!