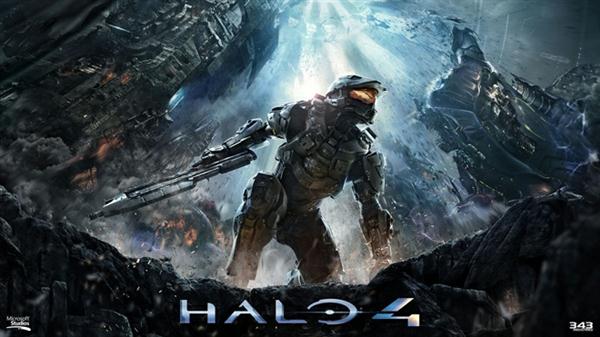 Most gamers I hang out with roll their eyes when I say I like the Halo series. "Oh," they say, "you just run and shoot and aliens die and then you win." I can tell they've never tried to play a Halo game on Legendary. It's by far my favorite way to play. The game becomes less of a run-and-gun action title, and more of a strategic survival horror game. That's right, you heard it here first - Halo 4 is survival horror. Getting used to this mode can be quite difficult. In this article, I'll share my knowledge and all my secrets to finishing the game and getting Lone Wolf Legend.
The Biggest Secret: I suck at Halo.
I have played all the Marathon and Halo games. I have completed all of the Vidmaster Challenges in Halo 3/ODST. I have solo'ed Legendary in Halo 3, Halo: ODST, Halo: Reach, and I'm most of the way through my Halo 4 run. I've done enough LASO (Legendary + All Skulls On) challenges that I've lost count.
I also suck at Halo.
No, seriously. If you ever encountered me in matchmaking, you'd quickly see that I lose, constantly. I do OK when there are vehicles around (I'm pretty devastating in a Wraith, for instance), or in any mode where "strategic unit placement" (camping) and strategy can beat twitch reflexes, but let's be honest. I'm pretty terrible in a 1-on-1. EB occasionally ropes me into playing SWAT, and it's a fun game mode, but I tend to drag down the team's score when we play.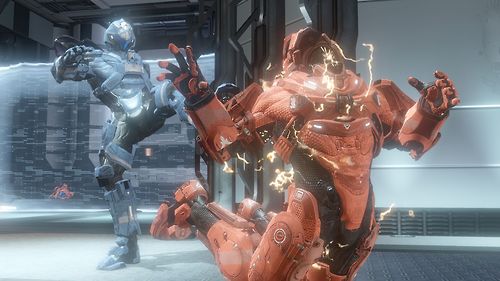 OW OW OW YOU SAID YOU'D BE GENTLE!
And yet, I can consistently complete the games on Legendary, mainly because the skillset is completely different. On Legendary, you need to be able to quickly get a headshot on, say, a Grunt, or focus your fire on an Elite while they're shooting at you. There's not a lot of other "twitch" skills required. Even taking a couple of rounds will down your shields, so you need to dart into and out of cover quite a lot. Solo Legendary is about knowing enemy patterns and weaknesses, resource management, and careful planning. You can't run and gun through Legendary, mainly because you just can't soak up damage, period.
Know Your Enemy
Each enemy type in Halo 4 has a different weakness, and should be faced with different weapons and tactics. I tend to always carry one "mid-tier precision weapon" - the DMR, BR, Light Rifle, or Covy Carbine. Of these, I like the Light Rifle the least. The low ammo count and burst fire really limits how useful an entire magazine (or all your reserve ammo) is.
My off-hand weapon depends on the situation, but I tend to prefer a power weapon (a sniper or heavy weapon), and barring that something like the Needler, Magnum, Suppressor, Boltshot/Magnum, or even another mid-tier precision weapon.
The AR and the Storm Rifle aren't typically worth anything - just drop these whenever you can. The Plasma Pistol has certain uses, but I typically don't carry one in the general case. Shotguns and other close-quarters weapons tend to just lead to death - any situation where you're close enough to really do damage with one of these is likely to end with your quick death rather than anything productive.
One-Shot Wonders
These are the guys you want to wipe out first, typically. They're not terribly hard to kill, and they can do just as much damage as the higher level enemies. In the campaign, typically a group of enemies will stay in a general area. Get as far away from this area as you can, and plink away at these guys with your mid-tier precision weapons.
A magnum can work in a pinch, but its low ammo count makes it less useful to carry than the mid-tier weapons. The boltshot can't be zoomed, so you'll have to be much closer to use it, but if you're in an emergency, it might be worth it. The plasma pistol can work in an emergency, but it can't really headshot, so you've got to just fire and hope you get the kill before it overheats or runs out of ammo. Grunts, some Jackals, and Crawlers can all be one-shotted, and they should whenever possible. On Legendary, killing a Grunt with body shots can take half a clip from a mid-tier precision weapon. This is a total waste of bullets. Shield Jackals are a 2-shot kill. Hit them in their weapon arm to stun them, then adjust your aim slightly up to headshot them.
If you need practice taking these enemies down, go play some Spartan Ops on Legendary - Sniper Alley is a good one to work on, since there are a lot of these mid-tier precision weapons and a lot of distant enemies.
Watchers
Watchers are new this time around, and they're a real pain. They can shield others, raise Knights from the dead, and they are capable of summoning more Crawlers in some situations. They also tend to run and hide if they're taking damage. After taking down Crawlers (or before, if the Watchers are summoning infinite waves of them), Watchers are your primary target.
You can take one down with about 2/3rds of a clip from a mid-tier precision weapon. If you can get close enough, an automatic weapon (Suppressor, AR, Needler) can work wonders. The short effective distance can be troublesome, however.
Watchers will also tend to sit still if they're raising a Knight, so if you know you can take the Watcher down, sometimes killing a Knight can help to draw them out. Shielded Enemies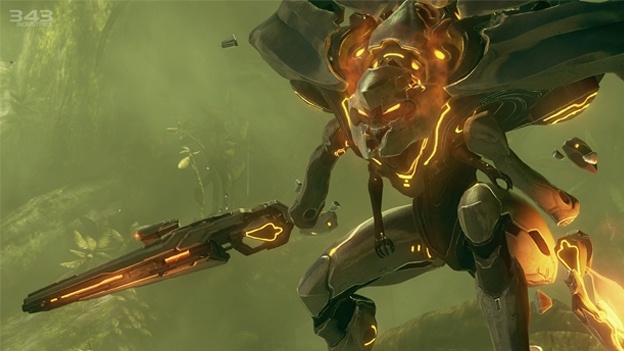 Ugh, Knights. If you're this close to one, get ready to respawn at the last checkpoint...
Elites are joined by Knights in this installment of the franchise. Elites aren't so bad - just aim for the head with a mid-tier precision weapon and go to town. They can dodge sideways, but rarely retreat. At certain distances, they'll throw a grenade in a canned animation they can't cancel. Once their shields are down, a single headshot will bring them down.
Knights are rough. Once you've taken down everything else in the area, focus on one Knight at a time. In the campaign, with no skulls on, they will tend to hang back and don't warp that often. Just focus your fire with your mid-tier precision weapon, or get them with a power weapon shot or two. Don't be shy about the power weapons against these guys - they can be frustratingly difficult, so sniping them or nuking them is a valid strategy. Once their shields are down, you can try to aim for their "head" although I've not found this to be a one-shot kill. I still do it, on the hopes that they take slightly more damage to that part of their bodies.
Elites and Knights both are vulnerable to the Needler. They don't tend to consider it threatening enough to dodge, and it's a quick kill. If I know I'm going to be up against Knights or Elites, especially in close quarters, the Needler is an excellent choice for a secondary weapon.
Most enemies will dodge grenades, but if they're stuck in an animation (throwing a grenade of their own, doing the "angry" dance because you took their shields down, etc) you can usually stick them if you're good at throwing Plasma grenades. Again, this is another skill that takes a little practice, but it can be very, very useful.
Useful Tricks
One-Way Doors & Weapon Walking
If you find a weapon rack, but right afterwards a door closes and you can't go back, there are a couple of tricks here. One is to stay in the doorway and attract attention. Especially in areas where doors open to very open areas, you can use the preceding area as really good cover. Take potshots from the safety of the doorway, and drop back to regenerate shields and restock ammo. The second thing you can do with a weapon rack in an inopportune place is "walk" weapons. Whenever you swap your current weapon with one on the floor, you throw it a couple of feet. If you repeatedly swap weapons with a weapon on the floor, you can move it up to another area. I used this in a few areas where ammo was plentiful, but then there was a door that closed me into an area with many enemies.
Vehicles and Turrets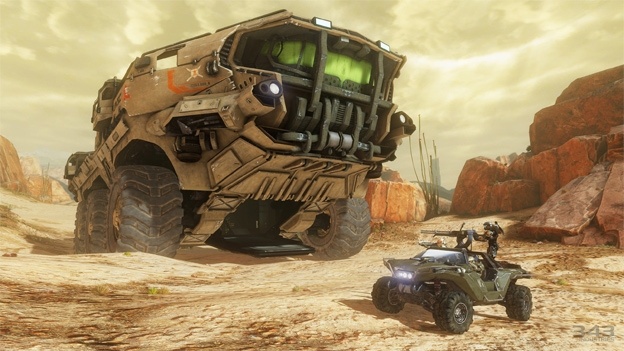 The Mammoth has rocket turrets, 2 Warthogs, sniper rifles, rocket launchers, and a bunch of UNSC weapons and ammo. Use it!
Don't neglect Warthogs and Ghosts - if you've got one, you've got a mobile turret with infinite ammo. They can soak up a bit of damage, but it's better if you can put them in a situation where you're too far away for enemies to take shots at you. Marines and other Spartans will try to be "helpful" by driving or manning the turret, so watch out. They are occasionally OK on the turret, but they will more often than not get you killed if they're driving.
Similarly, fixed turrets can be used as infinite ammo fixed emplacements, or detached and held as a "third weapon" while its ammo lasts. They can typically take out a few Elites or Knights before they run dry. The slow walking speed is a bit of a disadvantage, though.
The Autosentry is also a powerful armor ability. Enemies will tend to prioritize shooting the sentry rather than you, so you can use this to your advantage. Either lay into them with your mid-tier weapon, or if you're in close quarters, try to flank and get an easy assassination or beatdown. The extra (no ammo required!) firepower helps, as well. It takes a little while to recharge, but this is a game of strategy and patience.
Know the Map
There are many, many, many weapons scattered around, and knowing that there's a sniper rifle or a rocket launcher on the Mammoth, for instance, can mean the difference between winning and losing repeatedly. I typically run through the game once on Normal and explore every nook and cranny for secrets. Take note of areas where you can grab more ammo for good weapons, or where power weapons and spare vehicles are stored.
When you have an idea how far it is to the end of the level, and what general types of enemies you'll encounter, you're better prepared to pick your weapons and choose when to use what. On lower difficulties, the game moves fast enough that you might not stop to notice the little things - where heavy-weapon-wielding Elites and Knights are. If you can, though, taking note of these guys can save you a lot of headaches later. Most of All - Good Luck!
Solo'ing Halo games on Legendary is tricky, and it can take many attempts at some of the harder spots in the game. Don't give up! With the right combination of weapons, tactics, and know-how, you too can solo Legendary. Know your enemies, know your loadout, know the map, and always be ready to run like crazy!