In our third and final installment of Logitech's G-series roundup for 2016, we've got two new keyboards to discuss. Since they're quite similar, I'm going to group them together in one review. The two 'boards I've picked to review are the Orion Red and Orion Spectrum - both are high-end backlit mechanical keyboards. If you're torn between the G610 and the G810, read on! We'll compare and contrast the two in my G610 Orion Red vs G810 Orion Spectrum review.
Full Disclosure Logitech met with us at SxSW 2016, and they provided samples of both keyboards to me at no cost for my review. They are unable to influence my opinion in any way - they don't pay me, and can't change this article.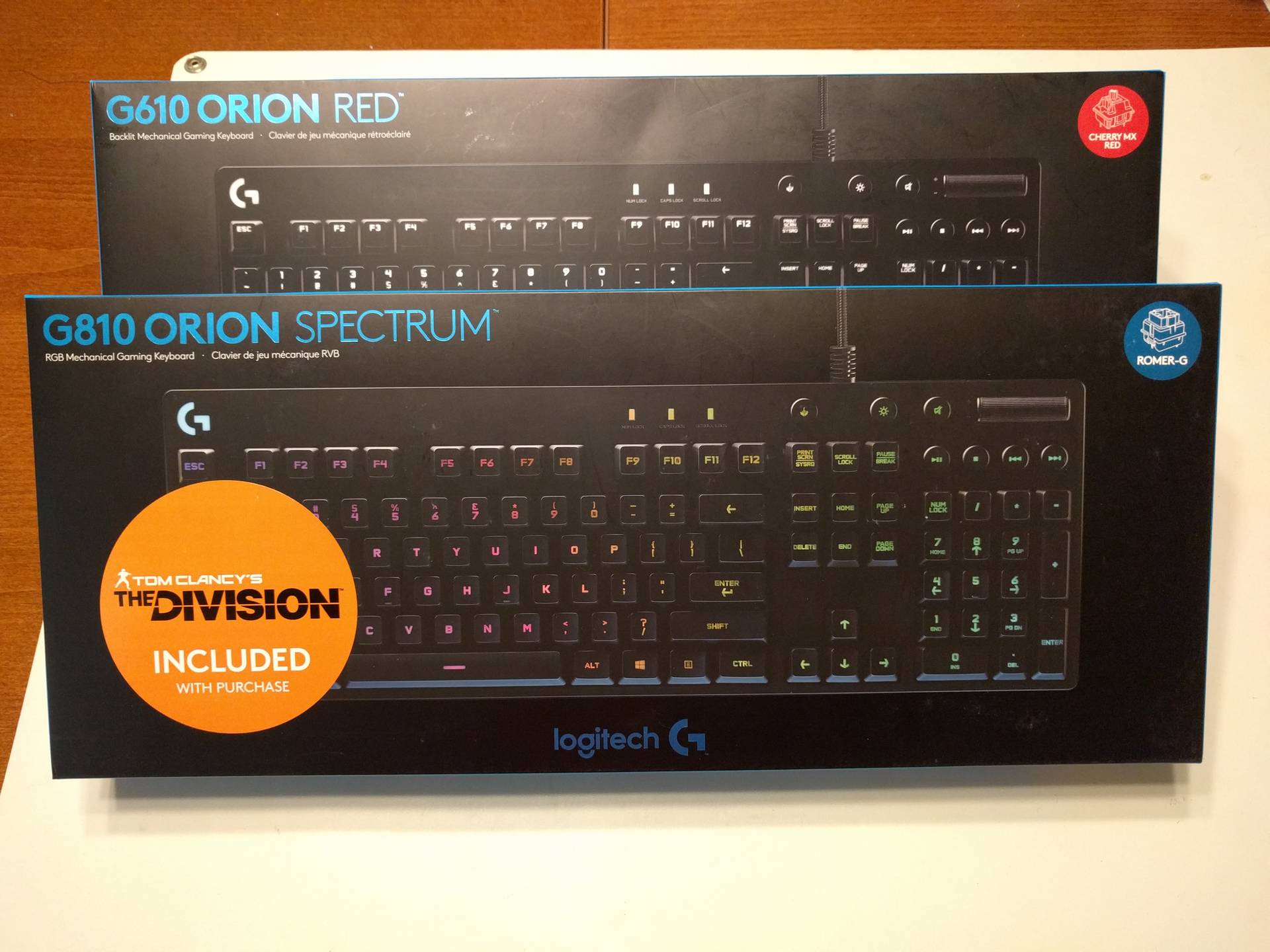 Logitech's got a total of three G-series keyboards that are all very similar. There's two G610 keyboards - the Orion Red and the Orion Brown, and then there's one G810 keyboard, the Orion Spectrum. From the outside, they're all very similar pieces of gear. They're all mechanical keyboards with the standard 10-key numpad, arrow keys, insert/delete/pg up/pg dn cluster, 12 F-keys, and some media keys above the numpad.
The design of these keyboards is basically identical. I'd have a tough time telling them apart without taking a close look at the model numbers or seeing them plugged in. The finish is a flat, untextured black plastic, and the keycaps are all pretty much your standard keycaps.
The media keys are backed by micro switches and have a very similar feel to, say, the D-Pad or L3/R3 on an Xbox One controller. The media key cluster also has a large scroll bar for adjusting volume. It's got a slightly rubberized coating and some little ribs for easier control.
One notable change from previous Logitech gaming keyboards - there aren't any dedicated macro keys. You can assign macros to the F-keys, but if you are used to having a row of keys on the left side, they're gone now. If you also expect your gaming keyboard to have extra features like USB ports or audio jacks, the Orion G610 and G810 are very no-frills in this department.
There's a neat little multi-position stand on the back of these keyboards. It can be laid flat, or give you one of two different height/angle adjustments. The anti-slip pads on the backside are also quite oversized compared to most keyboards - basically, this keyboard isn't going anywhere once you set it down.
The biggest difference between the three models is the type of switch they use. The G610 Orion Red uses Cherry MX Red switches, the G610 Orion Brown uses Cherry MX Brown switches, and the G910 Orion Spectrum uses Logitech's proprietary Romer-G switches.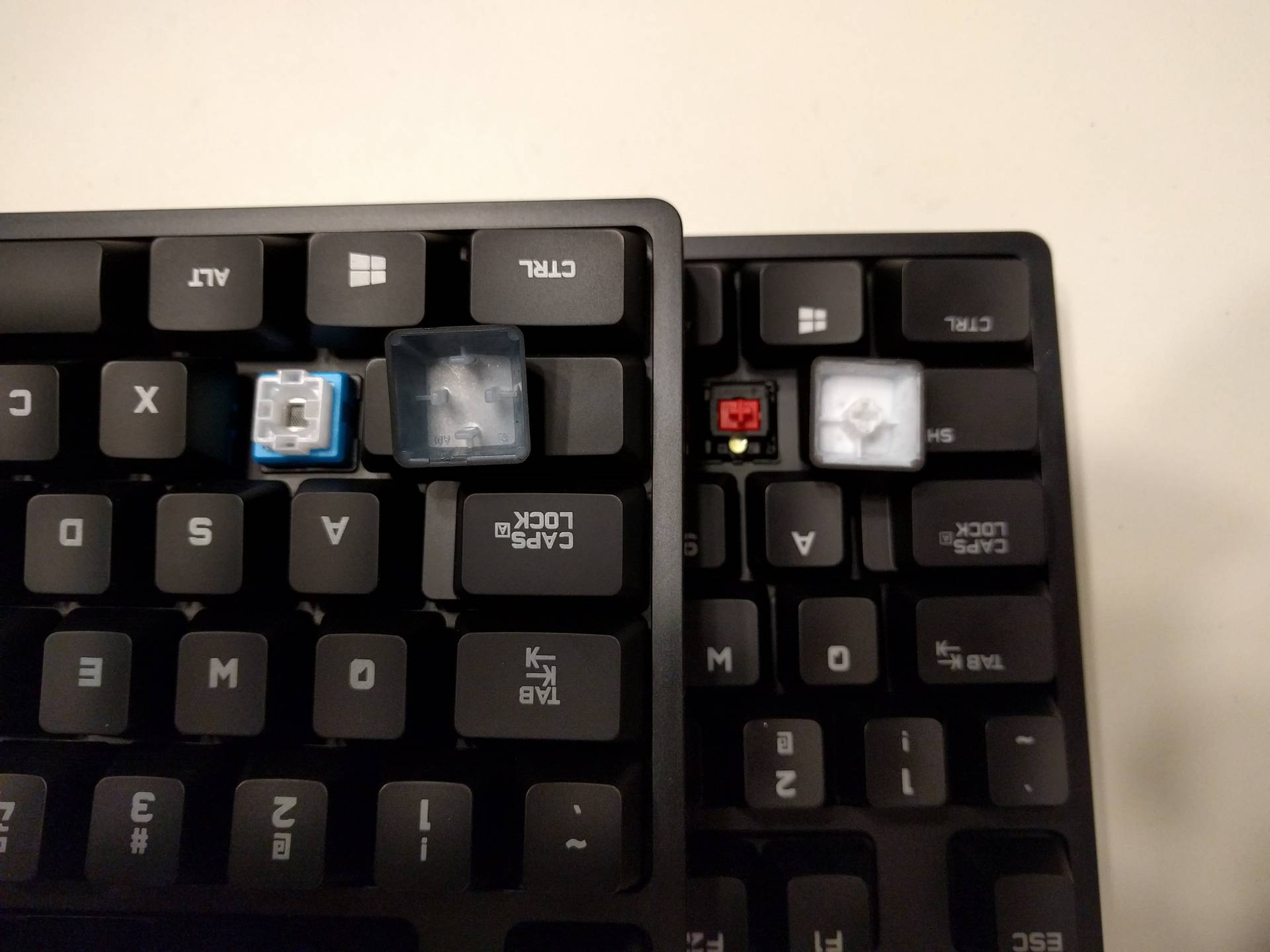 In case you're not familiar, Cherry MX switches are somewhat of the world's standard mechanical keyboard switch. They come in many different colors, and each color requires a different amount of force and gives you a different amount of feedback. If you've got no idea what the different colors are, there's a good guide on this page. One advantage of mechanical keyboards is that you don't have to depress keys all the way in order to get them to register keypresses. This can save you both time and strain on your hands.
"Which switch is best?" is a common question with mechanical keyboards, and unfortunately the correct answer depends on the user. You may prefer a switch that requires more or less force, or one that makes more or less sound. I personally prefer quieter switches, since my office is in an open area where the key noise travels and can annoy or attract others.
Since keyboard noise is important to me, I set up a test environment to capture and compare a bunch of keyboards to one another. The playlist on Soundcloud is embedded here:
[soundcloud url="https://api.soundcloud.com/playlists/211927443" params="auto_play=false&hide_related=false&show_comments=true&show_user=true&show_reposts=false&visual=true" width="100%" height="450" iframe="true" /]
# G610 Orion Red: What's Unique?
As I've mentioned before, the major unique element of the the G610 Orion Red is its use of Cherry MX Red switches. These switches are generally considered to be pretty good for gaming, so it's no surprise that Logitech would feature them in one of their gaming keyboards. Compared to the MX Browns, there isn't any secondary "click" when you've actuated the key, so it will take a little bit of practice to avoid bottoming out.
I like the G610 Orion Red pretty well, honestly. It's not too loud, but the key feel is pretty good. I got used to typing on it after just a few hours of adjustment.
Both the G610 Orion Red & Brown feature per-key, customizeable LED backlighting, but the color is white only. We'll talk a bit more about the backlighting after covering the Orion Spectrum.
# G810 Orion Spectrum: What's Unique?
From my personal perspective, the G810 Orion Spectrum with the Romer-G switches is probably the quietest of the bunch. It's not clicky at all, and the keys feel pretty soft to press. The key resistance feels very non-linear, and the sound even when bottoming out is quite quiet. It's not a bad feeling, depending on what you're looking for in a keyboard. If this is your first mechanical and you want something that feels like a dome switch keyboard, the G810 Orion Spectrum feels that way to me. When I first encountered it at SxSW, I was surprised to hear that it was a mechanical keyboard after tapping on it a bit.
Many people objected to the unique keycaps that Logitech introduced alongside its Romer-G switches on the G910 Orion Spark. Logitech sold replacement keycaps that were in the more familiar concave shape most keyboards feature. If you were one of the haters, rejoice! The G810 Orion Spectrum uses standard shaped keycaps.
If you're a big fan of custom keycaps, though, the Orion Spectrum has its own switch stems that aren't the standard Cherry MX compatible type. You'll have to find Romer-G keycaps to go on it, which I doubt are very common.
The other major difference between the G610s and the G810 is the full-color RGB backlighting. That brings us to the software...
# Logitech Gaming Software for the Orion Series
The Logitech Gaming Software for the Orion series keyboards is the same as the software we covered for the G502 Proteus Spectrum. If you've already read that review, the following will probably give you a bit of deja vu...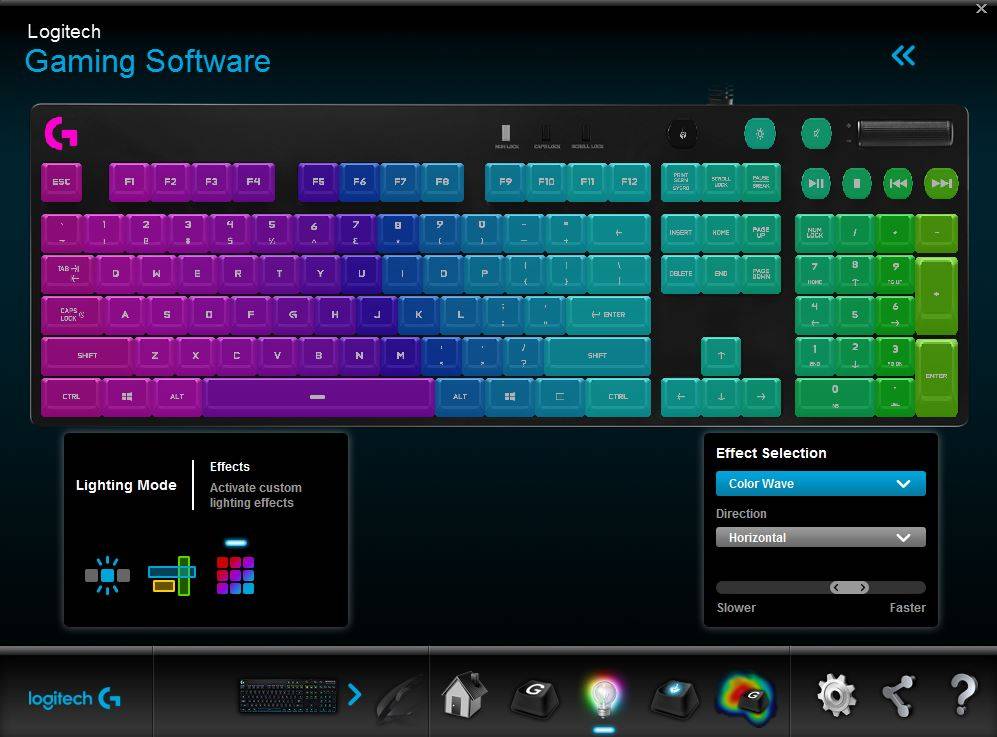 The Logitech Gaming Software is where you'll go to configure the LED backlighting on the Orion series keyboards, and there are a few more options here than for the G502 Proteus Spectrum. My favorite backlight option is the "key press" effect, which lights up keys for a short duration after pressing them. It's attractive without being obtrusive. On the Orion Spectrum, I really like the default "Logitech blue" color, although you can pick whatever color you want with the RGB color picker.
You can also set up macro keys using the Logitech Gaming Software, but remember that you're going to be binding macros to the F-keys and not dedicated macro keys. The software also has a heat map function you can use to figure out what keys you bash the most often, and a "gaming mode" toggle that can be used to disable keys while you're playing certain games.