Every year, Supercell celebrates the Christmas holiday in Clash of Clans by spawning special Christmas Tree obstacles. If you need info about Clash of Clans Christmas Trees, you're in the right place! Clash of Clans Christmas Trees have some special properties that are worth knowing about, although they're mostly just for decoration.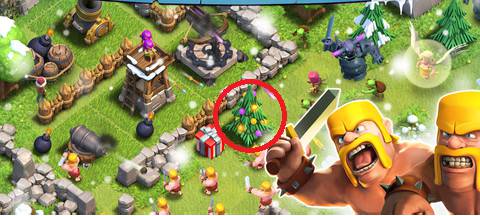 Christmas Tree Info
# 2015 Christmas Trees are Here!
The big question on everyone's minds is: Does the 2015 Christmas Tree drop presents?!? So far, the answer is "no." But keep checking back for updates - if presents start to spawn, we'll let you know :)
Update: It's Christmas Day 2015, and still NO PRESENTS. :( I'm guessing we weren't good enough boys/girls this year...
# Christmas Tree Presents
The 2014 Christmas Tree dropped presents around the Christmas holiday. You could tap presents to open them and get free resources! I've only seen 5k elixir rewards, myself.
Present Spawning: a lot of people have reported that they've only got one present under their tree, and no more are spawning! I was in the same boat, but this morning (12/22/2014) I woke up and found 2 new presents under both of my trees! Perhaps present spawning was glitched?
Update: 2014 Christmas Trees have stopped spawning presents, so you can save them or cut them down as you will. Some people like to "collect" the limited time obstacles, as a badge of how long they've been active in Clash of Clans.
# Christmas Tree Removal
Cost: 25,000 gold
Reward: 75,000 gold (so you'll net 50,000 after the cost of cutting it down)
Note that some folks are reporting only a 30k gold as a reward. Either SuperCell changed the reward, or it is somewhat variable. Others have reported crazy gem rewards, but I would not believe such things. At the end of the day, if you've got the 25k and a free builder, you might as well chop it down. It is unclear whether it will stay around after the next update, so sooner or later you might as well take the profit.