We met with the fine folks at Kingston/HyperX at PAX South 2016. While we mostly talked headsets, I did follow up with HyperX about their other gaming-rig-related products. They offered to send me a HyperX SSD to check out, so I've put the Savage through its paces as part of my streaming machine upgrade. If you're interested in the HyperX Savage line, check out my review!
SSDs are basically required components for modern gaming rigs. The additional speed afforded by a good SSD reduces install and load times dramatically. I myself have several SSDs in my various machines. Today I'm going to be testing the HyperX Savage in my desktop gaming rig, which I use for general purpose computing as well as hardcore gaming and streaming.
Right now this rig is a bit out of date - the motherboard, CPU, and RAM are all about 2-3 years old now, although I've already installed the new Geforce 980ti. I'm going to be upgrading soon, so we should have some good "before and after" stats to look at. These initial stats should be good for someone who is looking to upgrade their system with a SSD as a stopgap until they can do a larger system update.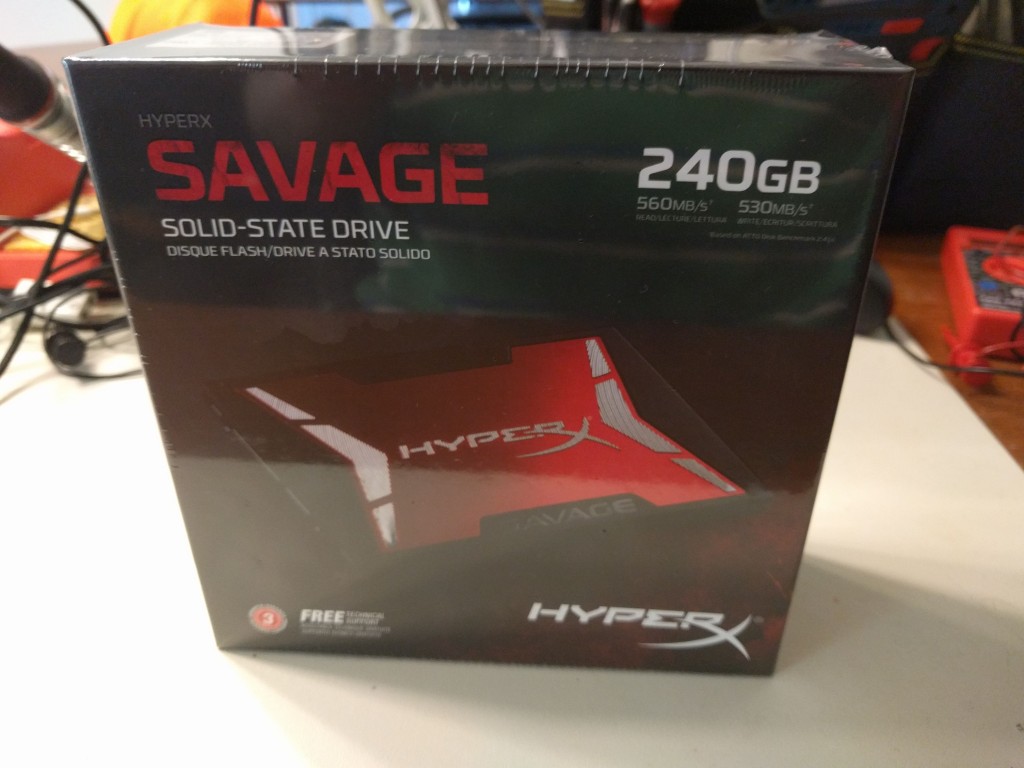 The specific model that HyperX sent me is the SHSS3B7A/240G - which as the model number implies is a 240 GB model. I think a 120GB model is probably decent for OS, and then I use a 240GB model for my installed Steam library. I've got a 2TB spinning platter drive for bulk data storage, like the archived streams from our YouTube channel.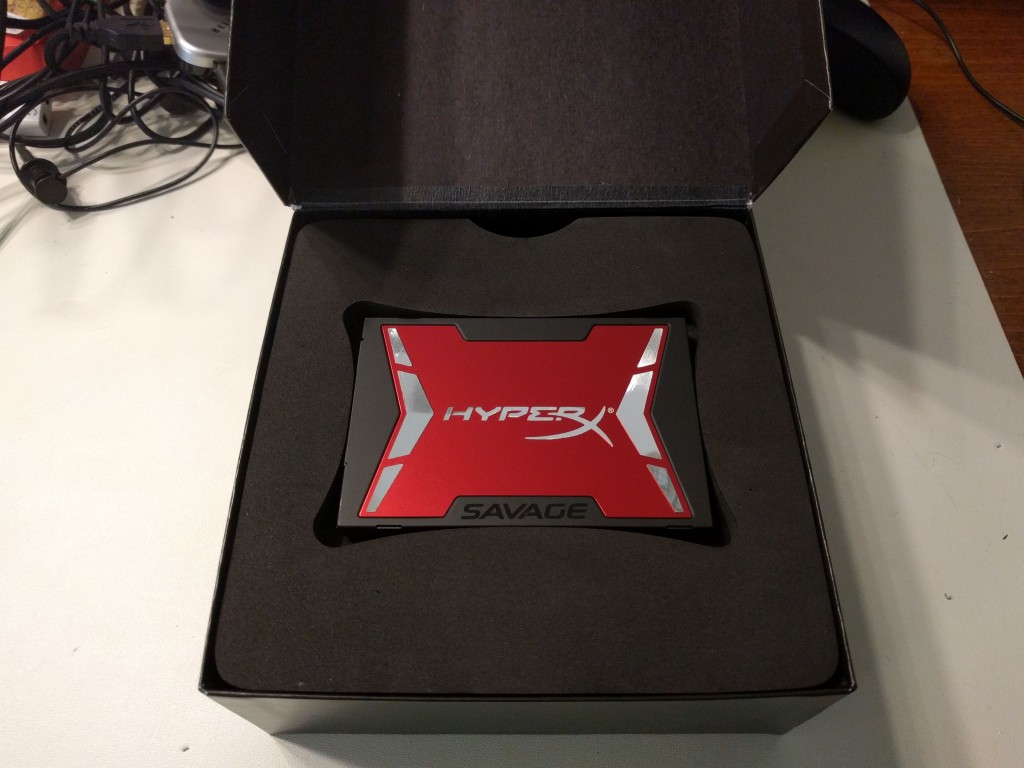 The HyperX Savage comes two ways - one is just a bare drive, and the other is in an "upgrade kit." HyperX sent me the upgrade kit for this review. The upgrade kit is a nice option if you're going to be swapping out an existing drive with this SSD - so for laptops, especially. In addition to the bare drive, the kit includes a bunch of extras:
There's your standard 7mm to 9.5mm adapter, which is basically just a plastic frame to give the drive more thickness in case your laptop case requires it. You don't want to have anything rattling around!
There's also a standard 2.5" to 3.5" mounting bracket, which is more for desktop users. If all you've got is 3.5" bays, this is what you'll need to use in order to mount the drive in your case.
They actually threw in an external SATA to USB 3.0 enclosure, which is really nice. If you're swapping out a drive, you can clone your internal disk to the Savage while the Savage is in the enclosure, and then swap the drives after the clone is complete. The enclosure itself is decent, I can see reusing it for other drives in the future. It would also be great for adapting the Savage to, say, an Xbox One.
Speaking of cloning your system, there's a key for Acronis True Image HD, which you can use to duplicate the drive while it's in the enclosure.
Man, they even threw in a screwdriver... It's a nice little magnetic number with replaceable tips. It looks to use pretty standard jewelry/electronics screwdriver bits, and comes with a standard slotted and Phillips set.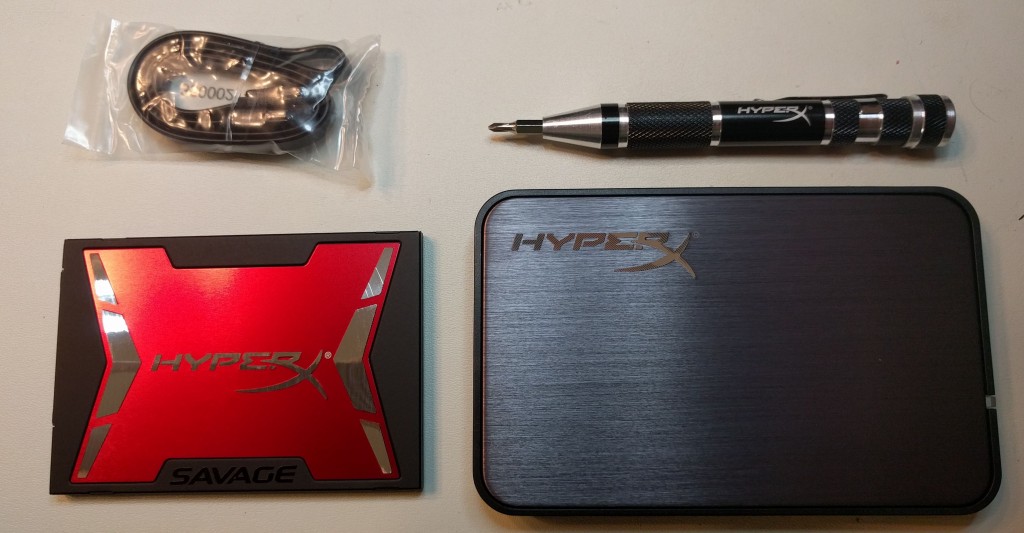 Whether or not the kit is going to be a good value for you depends on how much of this stuff you've already got. If you feel comfortable doing the imaging yourself, and you've got an external enclosure hanging out, chances are you can do without it. If you're looking for a turnkey solution to swapping in an SSD, these extras might be worth it.
If you care about looks, the HyperX is probably one of the shiniest SSDs I've had the pleasure of handling. It's bright red, very bold, and very reflective. This would definitely be a good choice if you're looking for
I unpacked all the goodies and stuffed the new Savage into one of my drive bays, and made sure I hooked it up to one of my motherboard's SATA 3.0 ports. After a quick format, I copied a bunch of my Steam library over to it, so I could put it through a very "real world" test. The drive was about 80% full during these tests.
I went with CrystalDiskMark for my benchmark testing, since it's brain-dead easy to use. If there's a particular benchmark you'd like to see run on the Savage, let me know in the comments.
| Test | Result |
| --- | --- |
| Sequential Read (Q= 32,T= 1) | 561.379 MB/s |
| Sequential Write (Q= 32,T= 1) | 538.207 MB/s |
| Random Read 4KiB (Q= 32,T= 1) | 288.554 MB/s |
| Random Write 4KiB (Q= 32,T= 1) | 260.748 MB/s |
| Sequential Read (T= 1) | 532.091 MB/s |
| Sequential Write (T= 1) | 511.877 MB/s |
| Random Read 4KiB (Q= 1,T= 1) | 29.474 MB/s |
| Random Write 4KiB (Q= 1,T= 1) | 78.604 MB/s |
You can compare these stats against TomsHardware's SSD roundup if you like.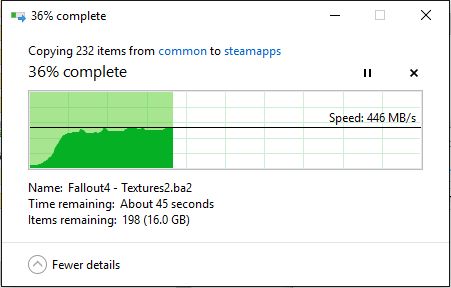 The good news is, the Savage meets its box specs - I get 560 MB/s sequential read and 530 MB/s sequential write out of it. Under best-case workloads, it easily keeps up with similar SSDs that cost half again as much. However, the Savage isn't going to displace high-end Samsung drives as performance king under worst-case scenarios.