While PAX in general (and PAX South in particular) is generally more indie-focused, big names still do have booths at the show. One invite we got for PAX South 2016 was to come check out the latest from Kingston's gamer-focused HyperX label. EBongo and I decided to drop by and see what was up.
It's no secret that EB and I use HyperX headsets - you can see us wear them every week on our YouTube channel. HyperX didn't provide these to us; we both bought our headsets with our own hard-earned money.
I did the research last year before purchasing, and I settled on the HyperX Cloud II for a number of reasons:
Cost. Most gaming headsets are expensive - Razer and Astro in particular sell very costly sets. I used to feel like Sennheiser had some of the best value out there, but they've discontinued their low-cost PC headsets in favor of stuff like the PC 310 G4ME
Quality of Materials. A lot of inexpensive headsets are made out of cheap plastic, so the whole headset just feels cheap. The Cloud II has metal where it counts - where the headset flexes to fit your head. It's also got really nice, soft padding in the cups and across the top band, so wearing it doesn't cause me any pain.
Accessories. The inline remote-slash-USB sound card is really awesome on the Cloud II. I also like the spare headset cups, the carrying case, the detachable mic, and all the other little "extras" that come with it.
Cross Platform Support. My Cloud II plugs right into the 3.5mm jack on my Xbox One controller, which means I can take it from the PC to my console with minimal fuss.
The folks from HyperX are introducing two new headsets this year, and thankfully they're maintaining all of these features in their new lineup.
HyperX CloudX - The Xbox One Cloud
The first headset we discussed was the HyperX CloudX headset. This is basically the same core tech as the HyperX Cloud, but it's been adapted to work even better with the Xbox One. HyperX and Microsoft have worked together to take the inline controls of the Cloud series, and make them compatible with the Xbox One's inline controls. The headset also sports a black and silver color scheme to match the Xbox One Elite Controller's design.
That was really my only complaint with using the Cloud II with my Xbox One controller - the controls are on the USB sound card portion of the cable, so I lose them when I plug into the controller. With the CloudX, I can take them with me!
The CloudX is scheduled for release in June, and ought to run about $99. I asked about the ability to take the CloudX and plug it into a USB adapter for PC use, but that wasn't something that HyperX was prepared to discuss at PAX South. There may be accessories like this for the CloudX after launch, but I guess we'll have to wait and see what gets announced.
HyperX Cloud Revolver - Next Gen Headset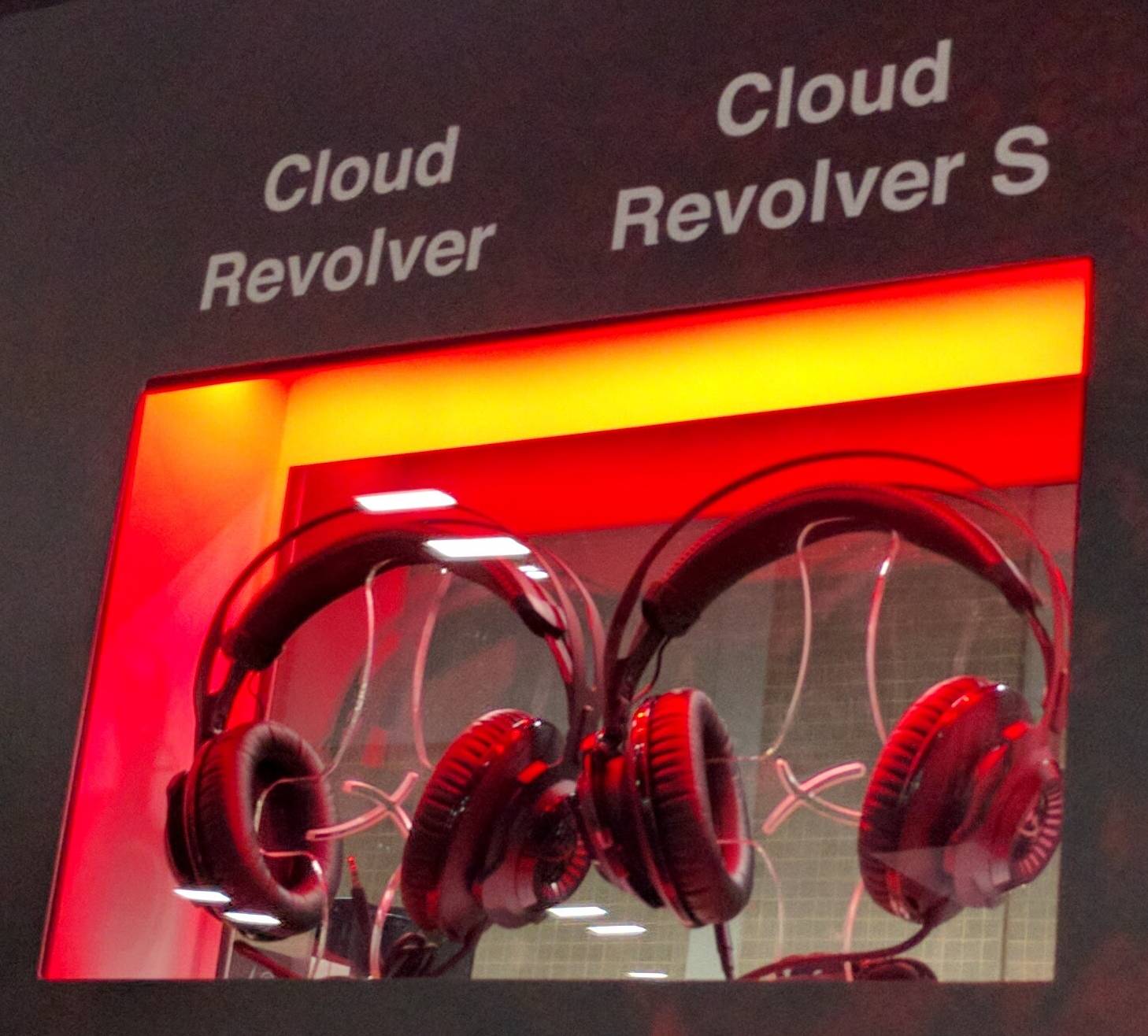 The second headset that HyperX showed off was the HyperX Cloud Revolver. This is definitely the next iteration of HyperX's headset line.
The Cloud Revolver changes a few key things from the previous entries in the Cloud series:
The drivers have been changed from 53mm on the Cloud to 50mm on the Revolver
The drivers are now angled, to provide a "wider sound stage" for surround sound effects
There is a steel suspension above the headband, which is popular in high-end headsets
The mic is now designed a bit differently, although it's just as flexible
There are plans for a "Revolver S" variant that will introduce Dolby Digital decoding
The steel suspension was probably my favorite part - I've never tried a pair of headphones with a suspension, and I was surprised at how much of a difference it makes. When I handed the set over to EBongo to try, he went to adjust them and I pointed out that he didn't need to - they just cradle your head regardless of the size. It was super comfortable, and easy to keep on your head, unlike some headphones I've used.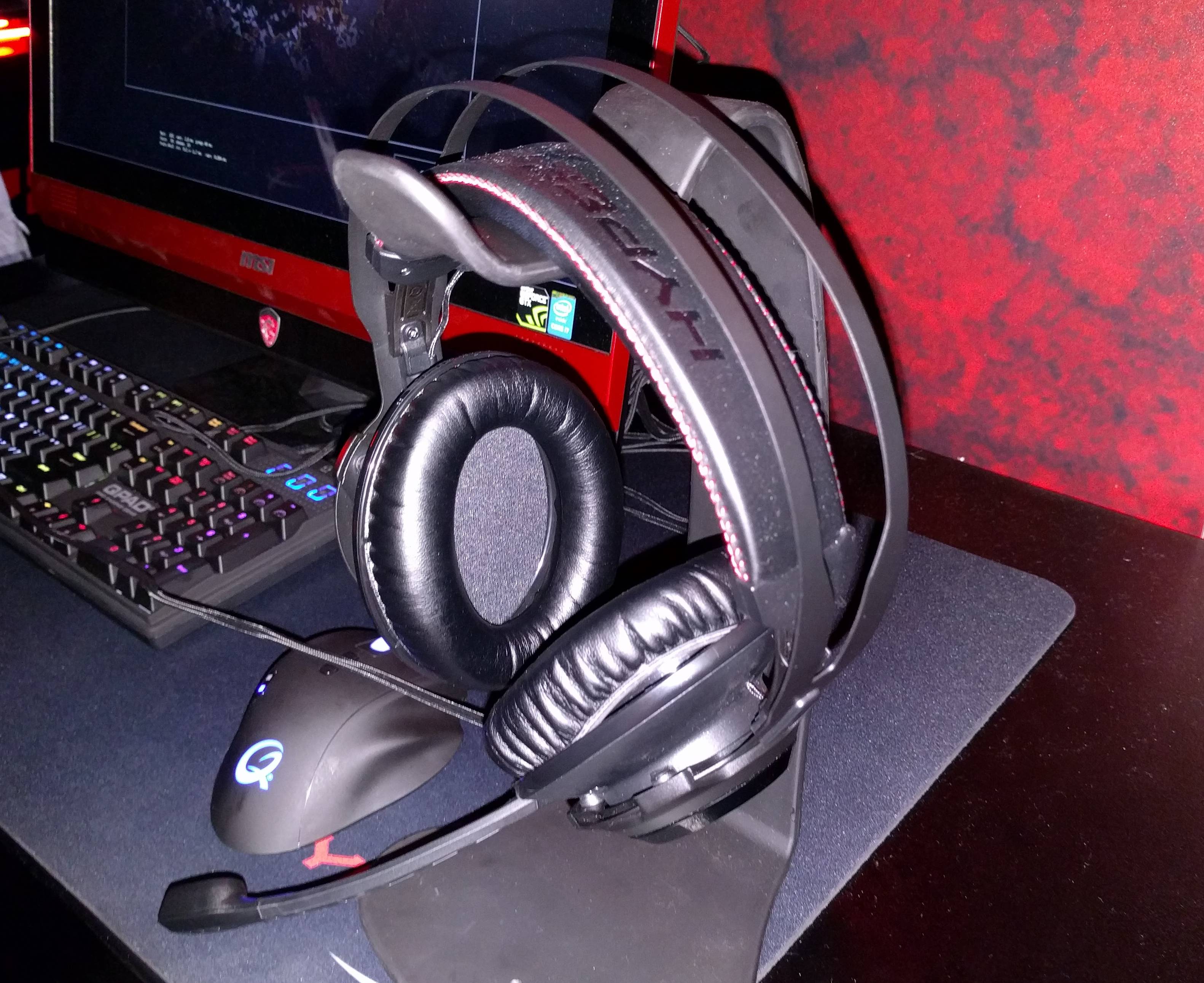 Again, here, the cost is going to be very competitive. The stereo version ("Cloud Revolver") has a planned MSRP of $120, and the Dolby Digital version ("Cloud Revolver S") has a planned MSRP of $150. Considering a lot of other "gamer" brands of headsets start at $150, even without a steel suspension or Dolby support, that sounds like a steal. Deals on existing Cloud headsets are pretty common, so I wouldn't be surprised to see them for less than that on Amazon by the holidays.
The Cloud Revolver is planned for release in May, with the S variant scheduled for 1-3 months after that.
Our contact with HyperX has talked about letting us review the Cloud Revolver line when it's close to release, and if that happens we'll post a full-on review. I'm looking forward to checking out the Dolby support in the Revolver S! Until then, I'll be cleaning the drool off my Cloud II so that I can get back to streaming...