After the untimely death of my Lenovo, and because my other Toshiba laptop was getting up there in years, I decided to pick up a new laptop. My main requirements? A Skylake CPU, a dedicated Nvidia GPU, and something in the 15" range. I found the HP Pavilion 15t (the ab100 model), which was on sale for basically a song! I grabbed one and have been using it for about the past week. In this HP Pavilion 15t review, I'll go over what I like and what I don't like, and let you guys out there decide if this device is right for you.
HP loves making laptops with the name "Pavilion," so trying to find information about a specific release/type of these laptops is a real pain in the butt. To be clear, I'll try to give as much info as possible so that you know you're looking at the same Pavilion I'm reviewing. This particular HP Pavilion review covers models that feature 6th gen Intel Core processors (codename: "Skylake"), as well as optional Nvidia 940M GPUs. The model number of mine is "15t-ab100" and it was introduced in late 2015. I believe the "Star Wars Force Awakens Special Edition" (that's a mouthful...) is a variant of this line, as that model is referenced in the manual.
My use case for this laptop is primarily streaming games from my desktop and soon, my Xbox One. I also plan to use it to do basic web-type stuff: email, blogging, browsing, shopping, etc. Occasionally, I'd like to use it to play games directly, but that's mostly for travel and I don't mind being limited to simpler, less GPU intensive games.
I picked one of these HP Pavilion 15t's up during a particularly awesome HP store sale. The Pavilion 15t is a pretty inexpensive notebook to begin with, but this sale knocked it down an additional $200. I ended up spending that cash on upgrades, so my "configure to order" (CTO) specs were:
Intel Core i7 Dual Core Processor (6500U)
Nvidia GeForce 940M Discrete Graphics
15.6-inch diagonal Full HD WLED-backlit IPS Display (1920x1080)
802.11ac + Bluetooth Wireless Mini-PCIe card
1TB 5400 RPM Hard Drive
6GB LPDDR3 RAM (1600MHz, PC3L-12800)
The grand total for this was a bit under $650. For a latest-gen Core i7 and dedicated GPU, that's a steal! I wasn't planning on getting a dedicated GPU, since my plan was to use it infrequently. However, I just couldn't pass it up at this price!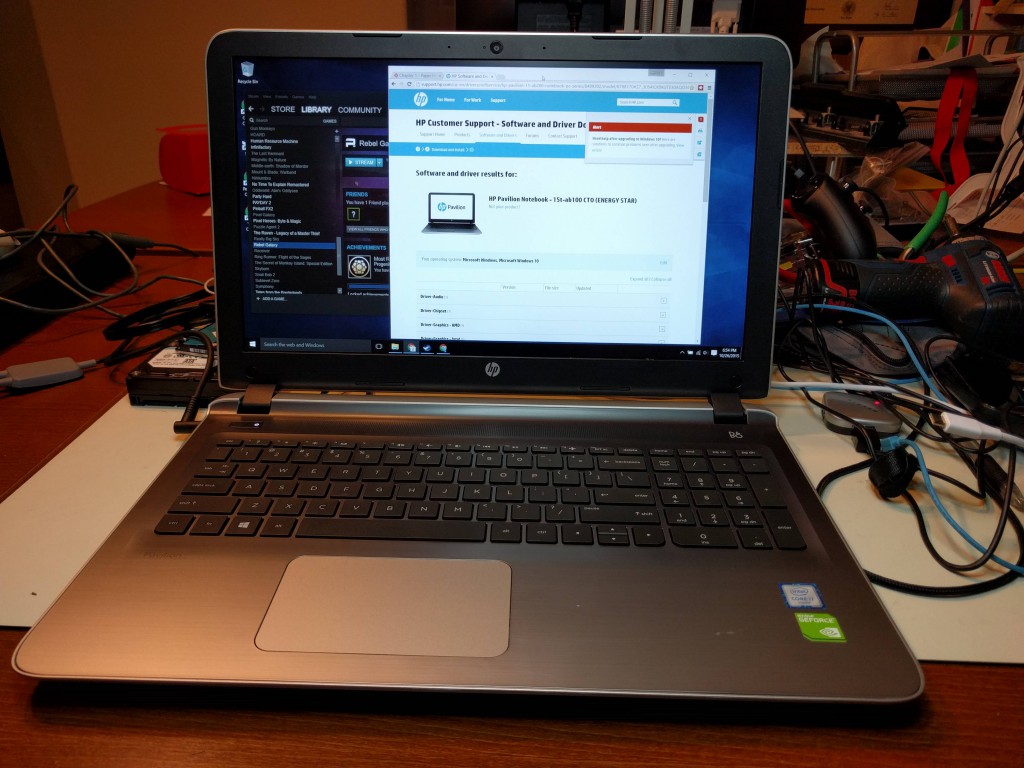 I sure thought this model came with a touch panel, but apparently it doesn't. I don't really care, personally, but it was a bit of a surprise. I probably looked like a moron jabbing at the screen for a few minutes the first time I turned it on...
I didn't bother upgrading the HDD or RAM, as those are easy to replace, compared to the CPU which tends to be soldered down or the panel which is pretty much impossible to replace.
HP Pavilion 15t Review: Love at First Byte
First off: the things that I love. I really, really love the battery life. Even while streaming from my desktop gaming rig, I can get around 4-6 hours of play on a charge. My older laptop was far less efficient in this regard - I could maybe get 2 hours if I was lucky.
The Pavilion 15t's screen is also pleasant. I'm glad that high DPI, matte displays are in vogue. The extra $20 for a 1080p panel really paid off. It's also the same native resolution as my desktop, so there's no scaling and my games look awesome.
The keyboard is pretty nice, the keys have a bit of texture to them and I find them comfortable to use for extended periods. There's also a full-size numpad, which is great.
The HP Pavilion 15t is also pretty light. It doesn't tire me out to have it sitting on my lap, like my heavier previous laptops have. Another plus for the HP Pavilion 15t is that it runs really cool. Even with the Core i7 upgrade and when playing games, it doesn't get terribly hot or loud.
HP Pavilion 15t Review: It's Cheap, Y'all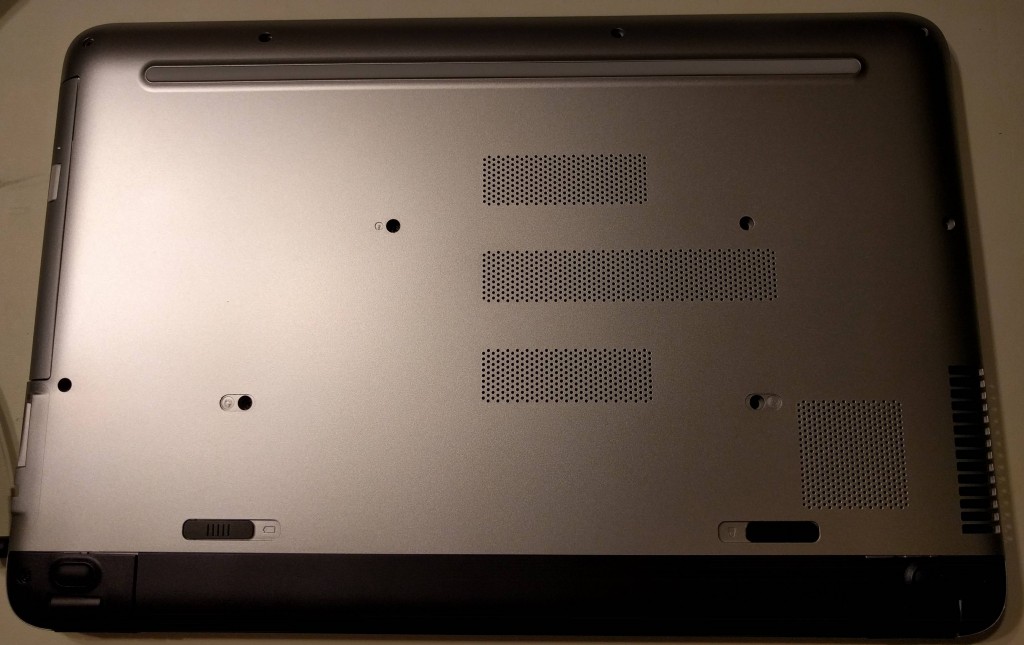 Now onto the bad news. It's kind of painful to get inside the HP Pavilion 15t to do any upgrades. I had to take out a dozen screws, pop off two hinge covers, and then pry open the plastic clips all the way around the keyboard tray, and even then it didn't quite want to come apart. Thankfully, there are removable DIMMs in a pair of slots, and the HDD is mounted in some rubber (shock absorbing?) bumpers - there aren't any screws directly holding it in. These parts are relatively close to the front edge of the laptop, which was the easiest to get apart.
Related Video By request, here's a video of me taking the laptop apart, showing where all the screws are and getting the case separated.
"https://www.youtube.com/watch?v=Fl29smiCoUw"
This all-plastic construction also means the HP Pavilion 15t feels really cheap. The plastic feels thin, and I managed to mar it when trying to pop it apart to upgrade it. There's also a bit of residual glue around the bottom edge of the screen that I can't seem to get rid of, and I'm worried about damaging the panel if I take any more invasive steps to remove it.
I really don't like the touchpad on the Pavilion 15t either. It's trying to ape the much higher end touchpads on nicer laptops, which click anywhere you touch them. There's a definite difference in the force required to push the Pavilion's touchpad down at the front versus the rear of the pad. The Synaptics software is also light years behind Apple touchpads as well. I also dislike the fact that there's no way to turn it off with a key by default, and there's not an obvious way to bind a F-key or other keystroke to shutting it down for extended gaming or typing sessions.
This is also my first Windows 10 PC, for better or worse. I can't really blame the HP Pavilion 15t for Windows 10-related issues, but I still haven't quite warmed to the OS. There are a lot of little bugs or half-working features, which is actually pretty standard for Microsoft OS releases. I'm not terribly surprised, but I guess I'm still a bit disappointed.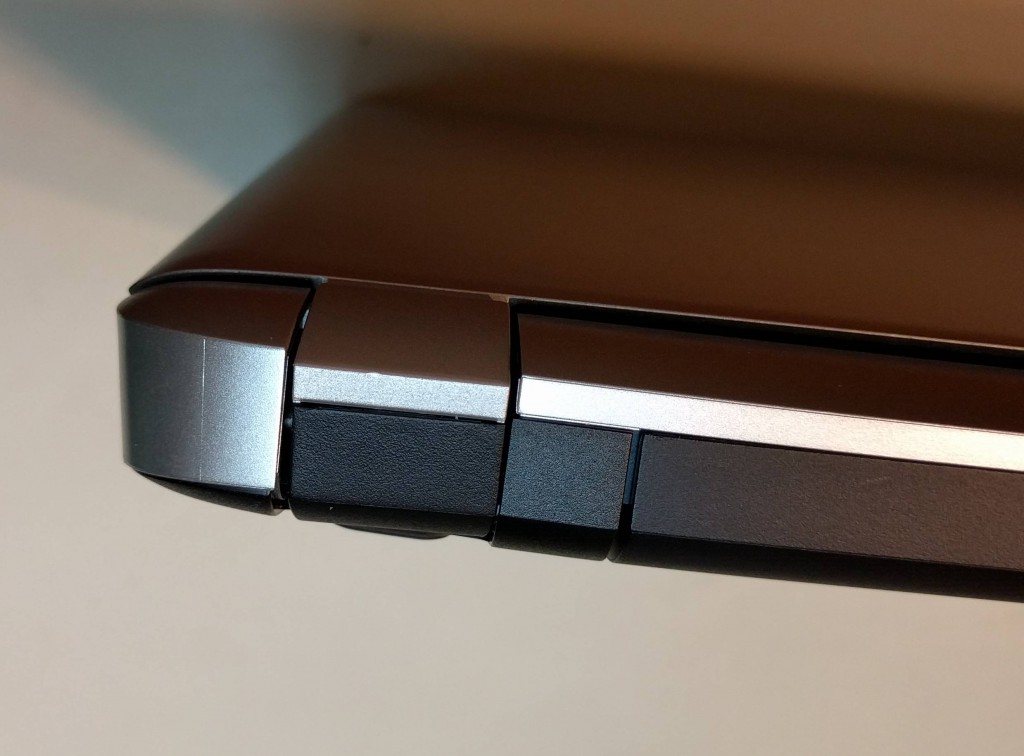 Finally, the rear edge of the lid has a really sharp edge to it. This is bad for two reasons. First, trying to carry the laptop by the hinge side means you're putting the weight of the Pavilion 15t on that edge and into your hand. Second, the hinges rotate down towards your lap whenever the lid is up, so there are two short sections of sharp edge digging into your legs. It's not a big deal if there's clothes in the way, but if you find your shorts riding up a bit or you like to sit cross-legged, you might find those sharp plastic bits digging into your legs.