I know you've been sitting there thinking "gee, only 3 hard to breed Treasure dragons for my undersized, expensive, low DragonCash cap Treasure habitats... I wish they'd release more." Well my friend, how lucky are you? The new DragonVale Electrum Dragon is now available, and we've got the details below: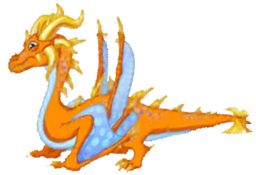 Breeding Pair: (Copper OR Magnetic) + (Lightning OR Metal)
Breeding Time: 47 hours 30 minutes, or 38 hours (if upgraded)
Availability: Unlimited
Type: Treasure
Price: 2200 Gems (Pocket change, right?)
DragonVale Electrum Dragon Trivia:
The fourth of the Epic Treasure Dragons
Electrum is an alloy of Gold and Silver, used to mint the earliest metal coins
The description mentioning "three wizard brothers from the Stater family" is a reference to the fact that the first Lydian electrum coins were weighted at 1/3 "stater". "Stater" was the standard monthly pay for a soldier.
Not sure which limited dragon you should be breeding next? Visit our limited Dragons page here.
Looking for more Epic dragons? Check out our complete Epic Breeding Guide.