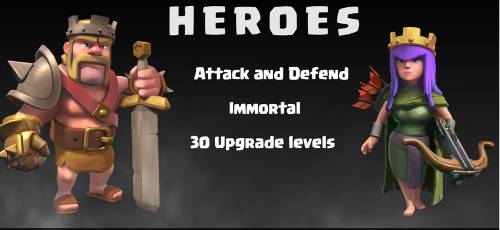 Wondering about the requirements for the new Heroes introduced in the latest update for Clash of Clans? The Clash of Clans 3.3.2 patch is now in the wild, and if you've got the right stuff, you can get heroes!
# What we do know:
SuperCell teased the introduction of Heroes and the addition of the new "Dark Elixir" resource on their Facebook page. In doing so they linked a video , which reveals some additional details.
Heroes are visually larger, and more powerful than any other unit
Heroes use Dark Elixir for upgrades, and there are 30 levels for each hero
Heroes are immortal, and are active both for attacks and defense
# Update: New details now available!
Barbarian King
Available at Town Hall level 7
Costs 10,000 Dark Elixir and has 0 build time to unlock
Base hitpoints are 1,500
Base damage is 150 damage per second
Time to heal is 240 minutes
Slower movement and attack speed, ground units only
Archer Queen
Available at Town Hall level 9
Costs 40,000 Dark Elixir and has 0 build time to unlock
Base hitpoints are 500
Base Damage is 100 damage per second
Faster movement and attack speed, greater range (also ground and air)
Other Patch Details
Dark Elixir can be acquired via attacks, or via the Dark Elixir Drill available at Town Hall level 8.
Dark Elixir is stored in the Dark Elixir Storage first available at Town Hall level 7 (so you can start stealing Dark Elixir before you can mine it)
Dark Elixir Drill production is extremely slow compared to the cost of heroes. To get the Barb King, assuming no losses (bad assumption) it would take ~ 1 month after the Dark Elixir Drill is acquired, assuming it is emptied every 6 hours.
Clearly, this is an effort to squeeze a few more dollars out of the community for gem acceleration - time will tell if it pays off or breaks the streak of success SuperCell has so far enjoyed.
If you have other questions, please post them in the comments and I'll include them with updates as more information is available. Also, for an interesting read check out this article over at Artic Startup on the success of Clash of Clans, the recent Helsinki meet up (with beer!), and the obscene quantities of money the game generates.