Most of the time, the really difficult levels are the ones that come at the end of an episode. Candy Crush Saga level 45 is smack dab in the middle, though. This is one I really had to spend some time on before I could get just the right combo of candies to clear it. Hopefully, with our help, you too can clear Candy Crush Saga level 45!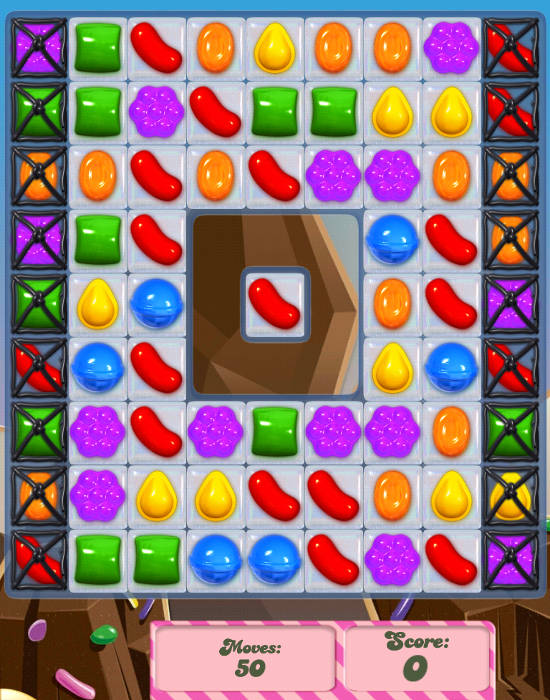 One thing that jumps out at you right away is that center square of jelly. There's no way to clear it with a normal match. Instead, you're going to need striped candies or a color bomb if you plan to reach it. I suggest rolling the level (Need info on rolling? Click here!) until there's a ready-made 4 in a row in an area where you can match it to clear the center square right from the start.
The game gives you a few lollipop boosts at one point, and if you have any of these left, this is a good place to use them! Just make sure you save them for the end of the level, when all that is left is clearing that center square. There's nothing that stinks worse than using your boost at the start of the level, and then failing the level due to random bad luck.
Just to be clear about that center square - the only way to clear it is:
Match a candy that is vertically striped in the column above or below it
Match a candy that is horizontally striped in the row to the left or to the right
Use a 5-in-a-row "color bomb" to clear the same color candy as what's on the center square
Use a boost, like the Lollipop boosts that you can buy or get for free the first time you play one of the early levels - if you used them up, they're gone unless you pay!
These are the only ways to clear the center square!
You may be thinking you can ignore the licorice cages around the sides of the level, as there's no jelly underneath. However, these cages can prevent a lot of the larger candy matches you're going to need in order to clear this level under the move limit. Therefore, your second priority when rolling this level should be a lot of matching candy near these licorice cages.
If you can start the level off clearing the center square once, and then work hard towards a second striped candy or (better yet) a color bomb, the rest ought to fall into place.
Hopefully we've gotten you unstuck, and now you can clear Candy Crush Saga level 45. Are you stuck somewhere else? Leave a comment, and I'll try to post an article with some tips!