As you get into the early hundreds of Candy Crush Saga, you've made it about 25% through the game based on the number of levels today - and that endpoint is always moving farther out. Candy Crush Level 109 is a good taste of what is in store as you move into the big leagues. As the levels ratchet up the difficulty, you will increasingly be faced with seemingly impossible challenges. Either you'll laugh and give up at the sight of these challenges, enjoy them and feeling of accomplishment when you manage to pull it off, or feel some love/hate cocktail of these two reactions - constantly uncertain of which is right. For those of you still with me, read on for some tips and tricks to this level.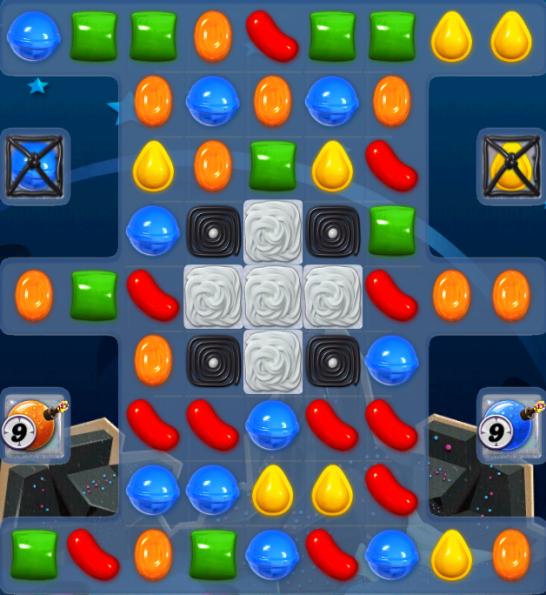 Seriously?
Yes, seriously. You can take one look at Candy Crush Saga level 109 and see that it will involve a well coordinated Special Candy strike to knock out not one. but two bombs. As you play on, you are also occasionally given the gift of another bomb to deal with. If you've played this long though, you are probably pretty good at spotting matches that will yield horizontal Striped Candy. Focus your early moves on making that Striped. If you don't see one on the initial board either reroll the level or start clearing meringue. The more meringue you clear, the easier it will be to make a Striped. Once you've made your Striped, carefully drop it to the row of the bombs, and let her rip.
Pro Tip A Wrapped + Striped is 3 candies wide, and can make the bombs easier to hit if you are lucky enough to make it happen. Color Bomb or Color Bomb + Striped can also work, but is very uncommon in just 9 moves.
and it's not over yet
Once you succeed in clearing the bombs, you'll still have to knock out the other two licorice caged candies higher up. When using Striped candies, this means you'll have to actually hit them twice to clear the jelly. There is also jelly under the meringue in the middle. It is hard to create and launch a Striped Candy this high up on the board. Striped + Wrapped can help, and with the bombs gone you have a little more time, but only 35 total moves. Beside brute forcing with Striped candies, you can also try Color Bomb + Striped. It is hard to create, but it is also often game winning once the bombs are gone.
That's all the help we can give you towards winning Candy Crush level 109. If Candy Crush is getting you too stressed, check out some similar games here or here. Good luck, and keep crushing!