Are you wondering how to hatch the Gratitude Monster that is available for Thanksgiving in Tiny Monsters? Well, if so - look no further. I don't have the same level of awesome insight into Tiny Monsters as I do for my beloved DragonVale, but I do have a level 40 park and a few strategies I'll share as I have time. In this case, the monster combo you are craving is as follows: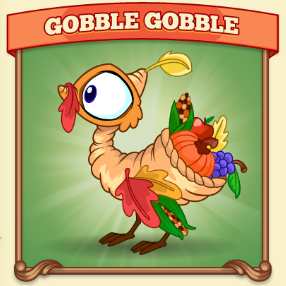 Breeding Pair: Plant Monster+ Earth Monster
Breeding Time: 14 hours
Availability: Thanksgiving
Type: Plant/Earth
Price: 199 Gems (A fortune...)
If you can stomach the sight of that thing then by all means, happy breeding and good luck!