Another month, another Gemstone Dragon in DragonVale. It is the last of the gemstone dragons, the Diamond Dragon which completes the 12 Dragon set. You can breed the April Gemstone dragon with the combination below. Like other Gemstone Dragons there is only one combination you can use to hatch it. The details are as follows: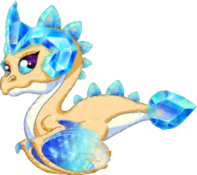 Breeding Pair: Ice + Mine
Breeding Time: 30 hours or 24 hours (with upgrade)
Availability: April
Type: Gemstone
Price: 1750 gems (Looks like its a blood diamond...)
Looking for the full list of limited dragons available right now? Check it out here.