Diamonds are one of Pet Rescue Saga's challenges. They seem like a good thing - they are caged in glass and break open when they hit the "floor" to give you extra points. However, they also keep your blocks apart, which reduces the amount of matches you can make.
There is one trick I've learned, which you could consider a Pet Rescue Saga cheat, and it has to do with these diamond blocks. In this guide, I'll share my secret trick for Pet Rescue Saga, and how you can use these diamonds to your advantage in a sneaky way!
Okay, when a diamond block hits the floor of the level, it breaks open and then a second or so later it is removed from the board. That much is easy, right?
Here's the secret - while the diamond block is breaking open and the diamond inside is disappearing, you can still make moves!
This may not seem like much, but in certain situations it can make a big difference. Since the diamond block still counts as a block while it's clearing, you can use it to make matches that you otherwise couldn't if it cleared immediately.
For instance, say you make a move that brings a diamond block to the "floor." This move also aligns a block on top of the diamond block with one in a neighboring column. If you move fast, you can clear both of these blocks. After the diamond is gone, though, the moment will have passed and the blocks will no longer be aligned properly.
Let's look at an example: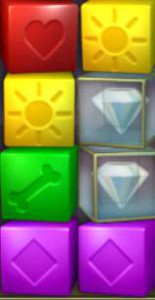 Okay, here we have two diamonds that are one match away from hitting the floor of the level and being cleared. But see those two yellow blocks? One is on top of the diamond pile. Once the purple blocks have matched, and the first diamond is gone, the yellow blocks will line up. But they won't stay lined up long - the other diamond is going to clear out a few seconds later.
If you wait until the yellow blocks are lined up, and then while the diamond is clearing tap the yellow blocks, the yellow blocks will disappear! If you wait, though, the yellow blocks will go out of alignment and keep you from matching them.
This also works with pets and cages as well as diamonds, so keep that in mind as you move forward with the game!