The Austin Chronicle recently sponsored an indie game expo downtown, and EB and I thought this would be a great opportunity to hang out, play some games, and check out the local indie scene. Despite our best efforts, we didn't make it to every station, but what we did get to experience was extremely fun! Stay tuned for our report on Game On Austin 2014!
# Motorsport Revolution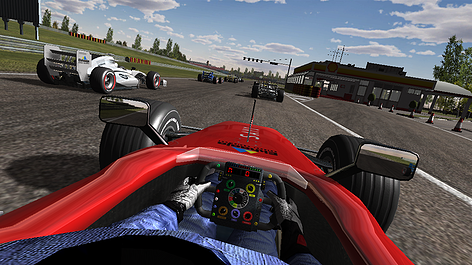 We started out heading outside to check out the Oculus Rift stations. Of them, Ghost Machine's Motorsport Revolution caught our eye. Ghost Machine founder Neal was on tap to show off his game. This was the first time either of us had a chance to check out the Oculus Rift, and we both had a blast! Neal had a whole setup of wheels, pedals, and the Rift. We both played a F-1 race and lost terribly. The game is still in early access, but the basics of racing against AI opponents are already implemented. I found the Oculus a bit disorienting in tight turns, but it's something I think I could get used to, if for nothing else than the immersion factor.
You can check out Motorsport Revolution on Steam Early Access, or you can follow Ghost Machine on Facebook!
# Dyscourse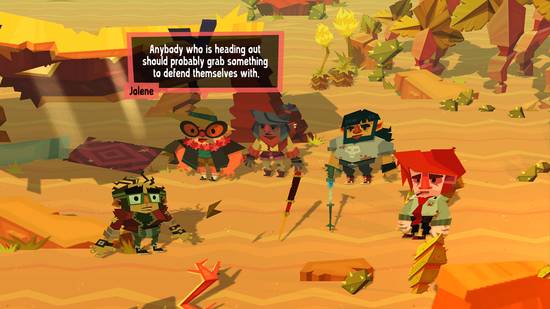 Also outside was Alex from Owlchemy Labs, showing off their newest title, Dyscourse. I was already familiar with Owlchemy Labs owing to their previous releases, Snuggle Truck and Jack Lumber. Dyscourse is an adventure game focused on character interaction and survival. If I had to describe it in terms of other games, I'd probably call it the intersection of Don't Starve and Telltale's take on The Walking Dead. Alex told us that they are focusing on a more divergent narrative, unlike the Telltale convention of giving you choices that ultimately lead to the same end goal. I played for a few minutes and I found it quite entertaining. The art style is beautiful and the small snippet of story I got to experience was compelling. I'm interested in seeing how it turns out!
Thanks to Alex (and Beth) for putting up with us, you guys are awesome! You can find more about Dyscourse and get your copy on the Dyscourse web site.
Added EB comments: I think agent86ix and I agree this game takes best of show for us. It looks very polished, and yet it has that slight off-the-beaten-path charm that I'm always looking for in an Indie title. Alex and I chatted a bit about games like Dyscourse in the "choices" genre, and my dislike of games that have hidden best choices. He said Dyscourse has been designed to give players many radically different paths based on the choices they make, but there are no "golden" choices, or forced plot convergence. I think this will really help players like me enjoy the game more, since so often I feel paralyzed in games like Mass Effect or Skyrim with a need to make the "best" decision in each instance - and I get sucked out of the immersion of the experience by constantly referring to guides and walkthroughs to avoid "missing" anything. Choices that really feel like your choice... what a novel concept.
# Dag Blasted, Disorder, and RGB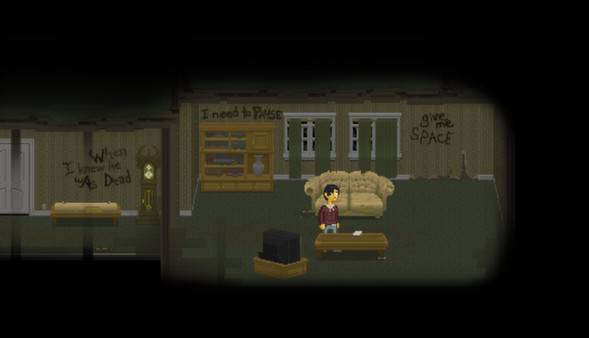 Heading inside, we checked out Saam Phlavan and Damon Chandler's booth. First we checked out Dag Blasted, a fun 4-player top-down arena style shooter. EB was especially pleased with how easy the game was to pick up and play.
Next we checked out Saam's Disorder, a 2-D platforming game with dimension swapping elements. The story follows a mentally ill man as he attempts to come to grip with his sickness and his past. Saam showed us a bunch of the different levels and mechanics, and I had a lot of fun playing the parts of the game I had time to explore. The story is told via small vignettes that change as you visit the two opposing dimensions, which I found to be an engaging way of combining story and game mechanics.
Finally, we played a few levels of Damon's RGB, a puzzle platformer where color is both your weakness and your strength. Jumping causes the background color to toggle, and only platforms distinct from the background are actually solid. I thought I had it mastered after the first few levels, but then the difficulty ramped up and I found myself challenged.
Pick your poison: Check out Dag Blasted, Disorder, and/or RGB at their respective websites.
Added EB comments: It's possible, in fact very probable, that many gamers out there today rarely get together with their buds to play games physically in one place. The internet has just made it too easy to pop on a headset and cross the expanse of miles between screens. There is a lot to be said for that style of gaming, but games like Dag Blasted remind me of a time when we were forced to huddle around a TV or Arcade cabinet in order to play together. It also so accessible, that "reformed" gamers that still remember the good old days can pick it up and start pumping lead without even really understanding the new-fangled controller they hold in their hands.
# CodeSpells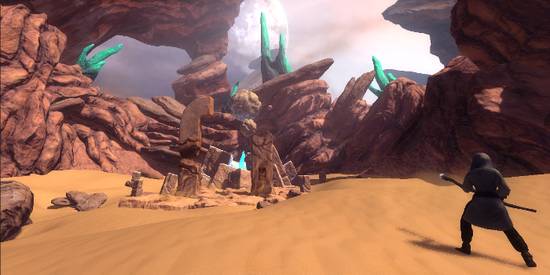 I saw Adrian demo'ing this game across the room and was immediately intrigued. The game revolves around building your own spells from a roster of different elements and effects. The catch is that spells have to be coded - either using a visual editor or in raw Javascript. I got a chance to play around in the game's (literal) sandbox, creating a spell that drained the sand out of an area I fired at.
The intent of the game is to teach kids the fundamentals of programming, and given the current appeal of these type of sandbox games among the younger crowd, I can see how appealing such a concept is. Adrian detailed plans to add various multiplayer elements and the ability to script scenarios and gametypes to play with.
CodeSpells already had a successful Kickstarter, but you can check the game out and put some cash down for early access on the CodeSpells website.
# Capsule Force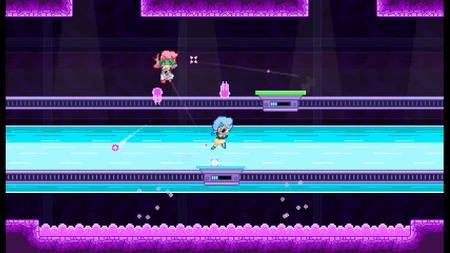 Our final game for the night was Capsule Force, a retro-styled action game pitting 2 teams of 2 players each against each other in a fight to move platforms and capture orbs. The art style is very 16-bit styled anime, and reminded me a lot of Mega Man. The action was frantic and a ton of fun whether you were winning or losing. EB and I faced off against each other, and my team came out on top! (Of course, I had a ringer on my team...)
You can check out Capsule Force on its official website, and if you want to see it on Steam, go help it get greenlit!
Added EB comments: Another one of my favorite titles from the show, Capsule Force had the same frenetic party game energy vibe I got from Dag Blasted in a very different title. I think it would be best characterized as a lightweight Super Smash Bros., with an objective that balances out the fighting. Occasionally I laid down a particularly well aimed laser blast, or popped my shield at just the right moment, and I had a seconds worth of smug celebration. It was in these moments that my opportunistic colleague hopped the speed tram to "Capsule Town", and instantly spoiled my celebrations. Pick this one up, pull together three buddies, and you'll play "one more game" for hours.
# Not Enough Time!
There were a lot of great games on display, and I'm bummed that we didn't get to them all. Game Over Videogames was on hand to show off their retro gaming hardware for sale. The unmistakable sounds of Super Mario Bros 3 echoed through the night. We got to watch over the shoulder of someone playing Color Thief which looked super cool, but we didn't have time to check it out. We've got plans to visit PAX South in January, and we'll probably try to get to SXSW's Gaming Expo 2015, so hopefully we'll have more chances to check out the local indie scene!