Pet Rescue Saga level 59 is a bit of a doozy. This is one of those levels where you have to clear a percentage of the blocks, but the screen doesn't even scroll like most of them do. There's also a whole bunch of diamonds to worry about, not to mention a lone key that is going to cause you migraines.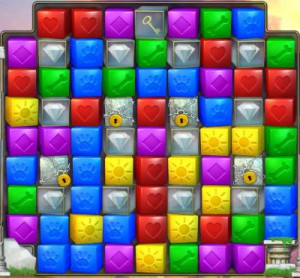 That lone key at the top of the screen really needs to break open in order for you to win. It's not easy to get it all the way to the bottom, though. You're going to have to carefully clear out the rest of the blocks. Likely you're going to run into a fair amount of checkerboarding, so keep our tips for that in mind.
With the number of diamonds on this level, it's also a good idea to keep the "diamond trick" in mind. Since most of your moves are likely to be small 2-3 block matches, getting blocks aligned just so is critical.
There's the chance of getting a rocket boost here, assuming everything works in your favor. However, there are so few blocks on this level and they're so scrambled that chances are you'll be winning already if the rocket ever charges.
Beyond that, it's really a matter of luck as to how the blocks are arranged when the level first begins. Get that key out, clear out the diamonds, and take it slow. It may take a few lives, but with luck you'll be past Pet Rescue Saga level 59 in no time!