Pet Rescue Saga level 31 is a level about rescuing pets from an unending stream of colored blocks. Usually these levels are pretty straightforward, but this one adds several twists. With our Pet Rescue Saga level 31 guide, you'll be through it in no time flat!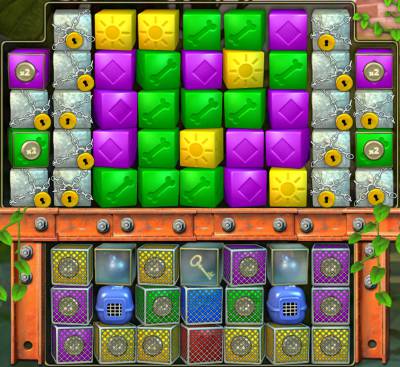 Pet Rescue Saga level 31 is a level all about using your rocket power. You're going to need to focus on making big matches up top so that you can charge up the rocket and use it to clear the squares towards the bottom.
To start with, your priority should be breaking the glass cage on the key in the middle. Doing this will unlock the left and right hand columns up top, which will allow you to score bigger combos. This, in turn, means you'll use less moves to charge your rocket.
There are a few "x2" blocks hidden in with the locked blocks. Once you've broken the locks, focus on making big matches that involve these x2 score doubling blocks. Again, remember that the overall goal is to charge your rocket as fast as possible.
Next, you'll need to break the pets free of their carriers. It takes 2 rocket shots per pet to save them, plus a move to blow up the bomb.
By the time you've saved both pets, you've got to have enough moves left over for big score matches up top. The goal is still the same, though - you want to make big matches as much as you can. If you've got any x2 blocks left, now's the time to pop them!
Occasionally you'll see a balloon or bomb come onto the board, and these aren't terribly useful by themselves. The balloon can reduce the number of colors on the board temporarily, though, so it can lead to some bigger combos if used wisely.
There is some luck involved, but if you focus on using every move to make the biggest match you can, you'll eventually overcome!