Oooh, that Rancid Raccoon! Yet again he's causing us Farm Heroes Saga issues. This time, let's hammer out a strategy for tackling Farm Heroes Saga level 63. Rancid is on the loose again, and he's presented us with a tiny level full of frozen blocks. Check out our Farm Heroes Saga level 63 guide, where I'll lay down the tips and tricks you need to suc-ceed.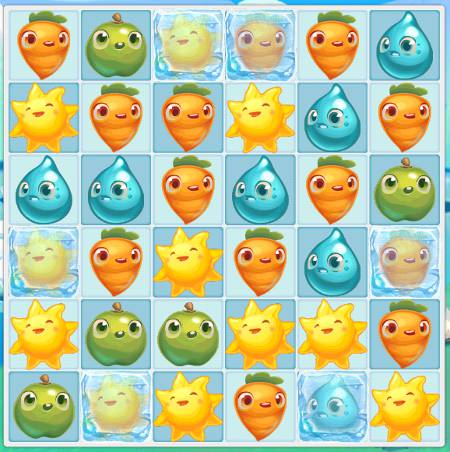 Our first priority on Farm Heroes Saga level 63 is those ice blocks. They're blocking us from making big matches, and that means they've gotta go. For the first few moves, keep checking to see whether or not you can break any of them. The more you can break quickly, the better.
Once you've cleared a few of them, say 3 or 4 or so, it's time to move on to focusing on big matches. The move counter here is really low, so we're going to need to use every advantage we can get.
Since there aren't very many types of crops here, and the board is so simple, you're likely to be able to get some decent matches here. The top one to look out for is a 5 in a row which will clear all crops of the same type. This can yield some really big bonuses - clearing all of a given crop is a big deal!
Beyond that, try to make "T" and "L" shapes of 6 crops, because this will give you some pretty big +1 bonuses across the board.
As with all Rancid Raccoon levels, it does not matter which of the required crops you match. All that matters is that you match enough of any or all of them combined to clear it.
Do note that there is one crop on this level that is NOT required and does NOT count! Don't match this one, it's worthless! Keep an eye on the screen to figure out which crops are required and which ones aren't.
It will probably only take you a few tries to clear this level. However, this is a Rancid Raccoon level, so you can also leverage your beans to your advantage.
Again here, I'd suggest playing Farm Heroes Saga level 63 a few times to get the hang of it, and then take the +1 bean bonus if you're just stuck and not making progress.
As far as your free boosts go, the +1/Dog combo is a good one, since it's essentially a great big 5-in-a-row match without any work.
On the "Rancid Raccoon Level Difficulty Scale," Farm Heroes Saga level 63 is pretty low. It's very luck-based, but keep your eyes peeled for major matches and you should get through it in no time flat!