While the "complete the order" levels first seemed like a breath of fresh air, by the time you hit Candy Crush Level 135 you may be finding them as frustrating as many of the others. The actual goal of creating orders is fairly fun, even with more challenging goals like the Wrapped Candies of this level, but as you compound the various obstacles like Chocolate on top, the Candy Crush saga hate algorithm begins to take it's toll. Chin up friend, we've got some tips down below.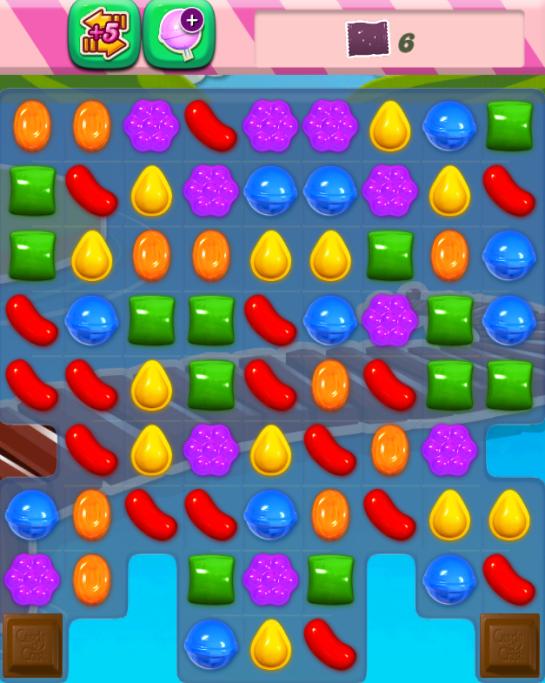 World War C
The Chocolate in this level is particularly menacing because it is both hard to eliminate and deterimental to your success in the level. In order to keep churning out Wrapped Candies, you need as much space to work with as possible, yet almost every move you use to clear Chocolate will put you no closer to your goal. Eliminating all Chocolate is not an absolute requirement, but I found extremely difficult to succeed without doing so. The best approach for eliminating it is to drop horizontal striped candies down the center and explode them such that they wipe out the "nooks" where the chocolate starts. A Wrapped + Striped Combo used in this way is even better as it will likely eliminate all chocolate in one sweep and it counts towards your Wrapped total. Being aggressive early in your turns may allow you to eliminate the Chocolate threat, but if you don't succeed early remember not to waste too many moves - after all, that's what they want you to do.
Wrapping up the win
Whether you've cleared the chocolate, or are just keeping it at bay, you still have the challenging task of creating a significant amount of Wrapped Candies in this level. I find Wrapped Candies can be even more challenging to create than Color Bombs due to the pattern necessary to create them. You're probably pretty good at spotting them at this point, but to win this level you'll need to not just find them opportunistically, but also make your own luck and create other matches that make them happen. There are two patterns I look for (represented crudely here):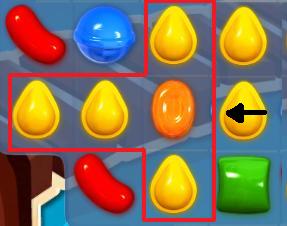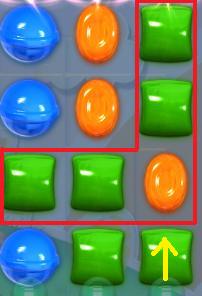 The first make a "T" shape when you swap the orange candy with the yellow candy on the end. The second makes an "L" shape, when you swap out the orange candy for the green candy. In both cases, you can start with part of this pattern, and then make the rest happen by forcing the other pieces into place with other matches.
Pro Tip As long as the Wrapped Candies explode, they count towards your tally. So even if you match them in combos together or with different kinds of other Special Candies, they still count.
If Candy Crush is getting you too stressed, check out some similar games here or here. Good luck, and keep crushing!