Now that the early levels are out of the way, it's time for Candy Crush Soda Saga to up the challenge level a bit. In this guide, we'll cover levels 11 through 15 and break through some trickier candy puzzlers.
# Candy Crush Soda Diaries: Level 11
Level 11 throws us a curveball by featuring 2 bears to rescue. The first one is blocked by a checkerboard of cake, but a few quick matches ought to solve that problem.
Then we move down to where the second bear is, and there is a quick striped + wrapped combo ready-made for us. How kind of them! Then there are a couple of color bombs that can be used if you can get the cake out of the way.
Notice how the screen tracks the bear? If you don't free the color bombs before moving past this point, you'll lose the opportunity to use them.
This one might trip you up for a life or two, but just focus on that cake and you'll be through in no time.
# Candy Crush Soda Diaries: Level 12
Level 12 is a wide-open board with 3 bears lurking under some thick frosting. Not all this frosting has to go, however. The bears themselves are only one square by two squares, so most of the board is just filler.
If you read my Candy Crush Soda Saga guide you know what to look for in order to spot the bears. You'll have to clear the first match of the frosting in order to spot them, but that's a lot easier than just clearing all of it!
Focus on making special candy combos that break a wide part of the board, like wrapped + striped. That will help quite a bit more than simple match-3 moves, or even the fish on this level.
Overall this level isn't so bad, and it sets the stage for similar but harder levels to come.
# Candy Crush Soda Diaries: Level 13
Another bear level - this one is pretty close to level 12 except that it's full of cake. There's a premade wrapped + color bomb combo here, but I'd suggest waiting a bit before using it if you can. If you know your special candy combos from our special candy guide, you know that color bomb + wrapped turns all of the same color into wrapped candies and sets them off.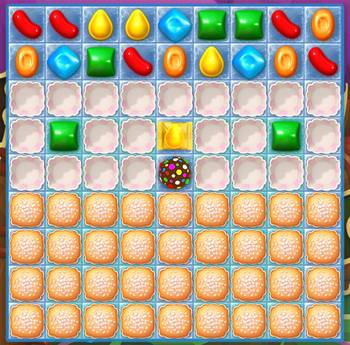 Sometimes when I play this level, the wrapped candy is the same color as the two candies embedded in the cake, but sometimes it's not. If it is, I find that to be a big advantage.
Beyond the initial few moves, the goal here is just to burrow downward and expose the two giant gummy bears behind the frosting. Wrapped candies can be used to great effect to dig holes into the cake and let you get matches lower down. Again, fish candies are kind of not that great, unless you mix them with wrapped candy. They will then seek out cake or frosting and blow it up.
There's not enough moves on this level to clear it without a lot of special candies and special candy combos, but this isn't as tight a level as some that will be coming later. You may fail a few times, but stick with it and you can win!
# Candy Crush Soda Diaries: Level 14
Back to the bears and candy strings again! This time there are some pre-made special candies to play with. Hitting the fish will cause the soda to break, which is going to be a requirement if you want to get those bears high enough to clear the string.
However, the major problem here is all that cake. It's everywhere. Until some of it is cleared, big special candy matches are all but impossible. Try to clear this as fast as possible, and focus on some special candy combos to speed the process up.
Once the soda level is high enough and the cake is out of the way, it's a straight shot. With so few moves though, this is going to be a close one.
# Candy Crush Soda Diaries: Level 15
Another bear and candy string level, but this time the soda level is critically low! The soda bottles are blocked by cages. This is a level where the fish special candy shines. If you can manage to make a lot of fish candies, or even a fish + color bomb candy combo, you'll be kicking butt early.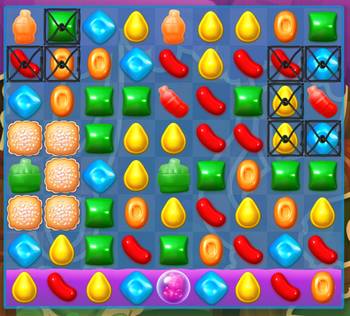 Keep in mind here again that the bear will move on and leave your special candies behind if you're not careful - try to use the special candies quickly to avoid this!
Priority one is those soda bottles. If you're all out of soda, focus on getting the bear up by breaking candy that is in its way.
Next up on Candy Crush Soda Diaries: Level 16 to 20!